Newington, N.H. (May 8, 2018) – The Second Annual SIG SAUER Aiming for Zero Charity Match is set to take place at the SIG SAUER Academy in Epping, New Hampshire, Friday, May 18th – Sunday, May 20th. Aiming for Zero is a division of the Active Heroes Foundation whose mission is to reduce veteran suicide and assist military families.
"SIG SAUER is committed to ensuring America's Veterans have every resource available to them to be successful when they return from service and throughout their life," said Tom Taylor, Chief Marketing Officer and Executive Vice President of Commercial Sales, SIG SAUER, Inc. "This important partnership ensures that one hundred percent of the proceeds raised from the SIG SAUER Aiming for Zero Charity Match will go towards much needed veterans services provided by the Active Heroes Foundation. It's an honor for us to host this match at the SIG SAUER Academy."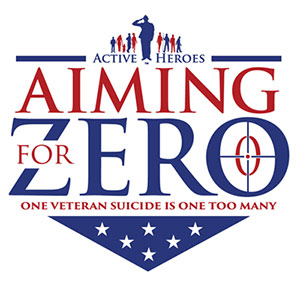 The SIG SAUER Aiming for Zero Charity Match will be a mix of IDPA, USPSA, and Steel Challenge with an Iron Sights division, a PCC division, and an Optics/Open division. There will be ten challenging stages for participants to compete including paper, stainless steel, and falling steel. The cost to participate in the 2018 SIG SAUER Aiming for Zero Charity Match is $95 and registration is available online at matchreg.com. There will be an onsite raffle throughout the match sponsored by industry partners and area businesses.
The SIG SAUER Academy is located at 233 Exeter Road, Epping, New Hampshire. For complete match rules and specific details visit matchreg.com.
To learn more about the HAVA organization visit honoredveterans.org
About SIG SAUER, Inc.
SIG SAUER, Inc. is a leading provider and manufacturer of firearms, electro-optics, ammunition, Advanced Sport Pellet (ASP) airguns, suppressors, and training. For over 100 years SIG SAUER, Inc. has evolved, and thrived, by blending American ingenuity, German engineering, and Swiss precision. Today, SIG SAUER is synonymous with bar-setting quality and innovation which has made it the brand of choice amongst the U.S. Military, the global defense community, law enforcement, competitive shooters, hunters, and responsible citizens. Additionally, SIG SAUER is the premier provider of elite firearms instruction and tactical training at the SIG SAUER Academy – a world class, state-of-the-art, 140-acre training facility. SIG SAUER is headquartered in Newington, New Hampshire, and has more than 1,700 employees across eight locations, and is the largest member of a worldwide business group that includes SIG SAUER GmbH & Co. KG in Germany, and Swiss Arms AG in Switzerland. For more information about the company and product line visit: sigsauer.com.