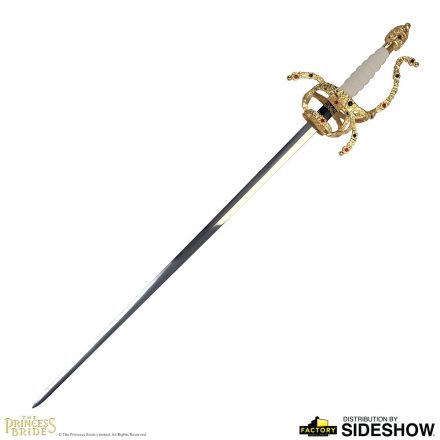 "My name is Inigo Montoya, you killed my father. Prepare to die!"
'The Princess Bride' is a classic and memorable film, with the above quote, and the character attached to it, Inigo Montoya, being one of its most oft-mentioned references. Factory Entertainment and Sideshow Collectables have partnered up to release an officially licensed replica of Inigo's sword from the film. Copied from the original prop sword, this replica features an SAE1060, hand-forged blade, and an ivory leather-wrapped handle. The sword is further decorated with an intricate gold-plated brass basket, inlaid with reproduction gemstones.
Like many Sideshow releases, this one's a pre-order, with an expected release date of October 2019.
www.sideshowtoy.com/collectibles/the-princess-bride-the-sword-of-inigo-montoya-factory-entertainment-904191