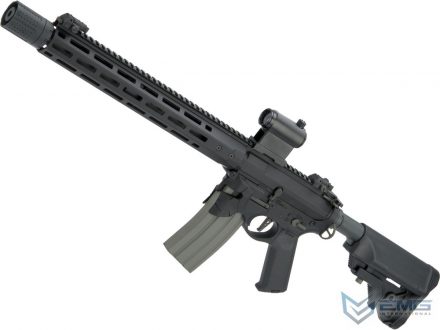 EMG International has partnered with Sharps Bros to produce a series of full metal AEG training rifles based on the 'Overthrow' AR-15 lower receiver design by Sharps Bros. The receiver set is CNC billet-style metal with an anodized finish and the lower receiver features an integrated beveled magazine flare magwell, styled after a hoplite helmet, with EMG & Sharps Bros licensing and engraved bullet pictogram selector markings. Furniture includes an aluminum M-LOK freefloat handguard and slim AR grip that houses the ARES high torque slim motor. One of the coolest features of this particular AEG is the inclusion of the ARES Electric Firing Control System – capable of safe/semi/3-round burst/full auto fire, the gearbox is programmable using a separate EFCS programming unit to change the available firing modes on the rifle.
The 'Overthrow' AEG is being offered in Black and FDE in three length variants: SBR, RECCE, and PDW.
For more details, including imagery of the other 'Overthrow' variants, check out the link below:
Tags: EMG, Sharps Bros.