KNOXVILLE, Tenn. (March 21, 2014) – Nissan announced today its philanthropic initiative in support of Wounded Warrior Project® (WWP) that will help fuel the next phase of "Project Titan," the automaker's second crowd-source vehicle program that will build the ultimate off-road capable full-size truck.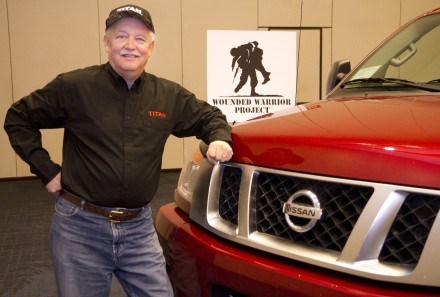 With the help of Titan fans, the vehicle will be outfitted with customized equipment designed to meet the unique needs of two injured service members who have been selected to take the ultimate outdoor adventure behind the wheel of Nissan's brawny full-size pickup. WWP is a veteran services organization that helps post-9/11 veterans and their families' transition into civilian life through a variety of programs and services.
"In addition to their physical wounds, service members live with the invisible wounds of war including combat-related stress, depression, and post-traumatic stress disorder upon returning home," said Adam Silva, chief development officer, Wounded Warrior Project. "We're in the business of finding innovative ways to honor and empower these Wounded Warriors for a lifetime. Because of that, we are incredibly grateful to Nissan for providing this unique opportunity to two of these very deserving heroes."
Announced at the Professional Outdoor Media Association (POMA) Business Conference, veterans David Guzman and Kevin McMahon have been chosen by Nissan and Wounded Warrior Project to embark on an unforgettable adventure behind the wheel of Nissan's Project Titan truck. Iraqi war veterans, Guzman and McMahon have both suffered significant physical and invisible injuries throughout their military service.
During a night convoy mission in Iraq, Guzman sustained a traumatic brain injury in addition to damaging his leg, wrist and mouth. Despite these pitfalls, he has since earned Associate's degrees in culinary arts and interdisciplinary studies. McMahon also suffered several emotional and physical traumas requiring several surgeries because of his multiple deployments around the globe. Since his return, he has frequently volunteered with WWP, and even joined the organization as a WWP leader throughout New England.
An Adventure of a Lifetime
Guzman and McMahon will embark on a multi-day trek through Alaska with the help of a custom-built 2014 Nissan Titan. The ruggedly tailored Titan will enable the veterans to take on the natural terrain of the Alaskan wild. To assist in their off-roading explorations, the veterans will put Titan's cargo carrying flexibility to the test by loading up the truck with an array of outdoor recreational and survival equipment. With a maximum towing capacity of 9,500 lbs, sliding bed extender, Utili-track™ Bed Channel System for optimum cargo hauling and a lockable bedside storage compartment, the Titan's undeniable functionality makes it the perfect companion for the rigorous journey.
"With its first‐in-class features and serious hauling and towing capabilities, the Nissan Titan is built for handling The Last Frontier," said Fred Diaz, senior vice president, Sales and Marketing, Parts and Service, Nissan North America. "The custom-built Project Titan is sure to amaze. Our goal is to create a truck that will cater to the individual needs of these fearless Warriors, and the only way we can do that is by pushing Titan to its limits with features never-before-seen on a Nissan full-size pickup."
The Warriors' ultimate Alaskan adventure was inspired by Joe Byers. Byers, along with 2,500 other outdoor journalists, was asked during a special media event at the 2014 Shooting, Hunting and Outdoor Trade (SHOT) Show and Conference in Las Vegas to describe his idea of the ultimate adventure. When coupled with the Titan's work-hard-play-hard design and rugged construction, Byers' adventure concept will enable the wounded service members to experience Alaska's beauty from all vantage points, whether perched on a mountain in Healy or waist deep in the Kenai River.
A Shared Adventure
For his winning submission, Byers will join the two injured veterans on their Alaskan experience. Additionally, Byers was awarded a one-year lease of a 2014 Titan PRO-4X of his own to take on his many annual hunts.
Equipped with a 5.6-liter V8 engine, 317 horsepower and 385 lb-ft of torque, electronic locking rear differential and Nissan Navigation System with color display and USB connectivity, Byers' will be armed with a powerful full-size truck that has earned a reputation of being a rugged, reliable and spirited choice for active truck buyers. Designed to get the job done, whether that job entails hauling cargo, a trailer or just family and friends, the 2014 Titan combines no non-sense performance with an array of technology and comfort features.