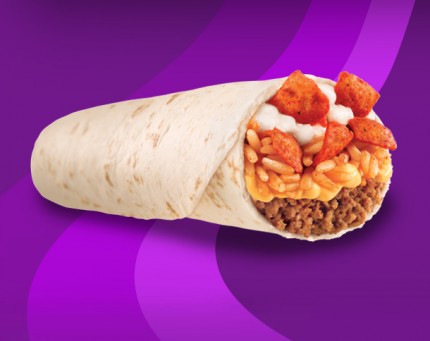 In one of the more insane events involving fast food in recent times, a man in San Antonio, Texas got into a firefight with police over the price of Taco Bell's Beefy Crunch Burrito rising in price from $.99 to $1.49. The man, who is currently unidentified, tried to order 7(?!) burritos and was told the price wasn't as low as he expected it to be (the lower price was part of a promotion, which ended) so he shot at the manger through the drive-thru window with an airsoft gun then pulled out a semi-auto assault rifle and pistol in the parking lot. He then fled as the police were called, exchanged fire with several officers, and hid in his hotel room which was later flooded with tear gas when he finally surrendered and was arrested.
Now he faces three attempted capital murder charges, plus whatever else they'll try and charge him with, over "food" that doesn't even feature the USDA's minimum required amount of beef for taco and burrito filling. That, and the fact that he felt he needed seven of them is the real surprise here. All I can say it that must have been one serious case of the munchies.
Thanks to mysanantonio.com for the original story.