A question I'm sure we've all been asking is which pair of tactical pants will fit an iPad 2. Even if you haven't, Tactical Pants Blog took it upon themselves to answer this burning question, and the results are quite clear: if you own a pair of the discontinued Blackhawk! Warrior Wear pants, then you also have the distinct honor of owning a back pocket large enough to hold an iPad 2.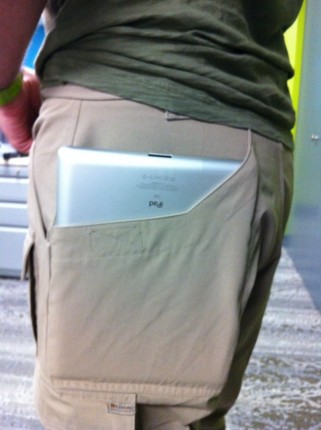 Sure, you can't sit down, but simply pulling the iPad out before descending solves that issue. After all, if you don't have your iPad in your hands at all times while in a state of rest, then why even own one?
However, if you missed out on the perfect iPad 2 carrier, don't fret. Genuine Gear's Lightweight Tactical Pants and Kitanica's Lightweight Tactical Pants are almost as good. Of course, you could always take a third option and buy a tactical bag to put your much treasured Apple product in, but that's just me.