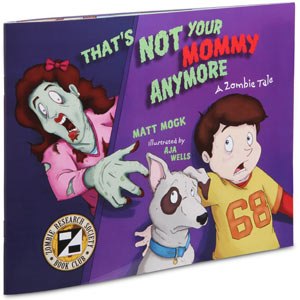 This book features all the telltale signs of a zombie outbreak and how to defend oneself. The catch? Instead of being some extensive professional-looking tongue-in-cheek guide, it's instead written as a tongue-in-cheek children's book (similar to 'Go the F**k to Sleep', but with more zombies, and less cursing). 'That is Not Your Mommy Anymore – A Zombie Tale' is written by Matt Mogk, founder of the Zombie Research Society, and illustrated by Aja Wells.
Thanks to a reader for the tip.
You can buy it at ThinkGeek.com.