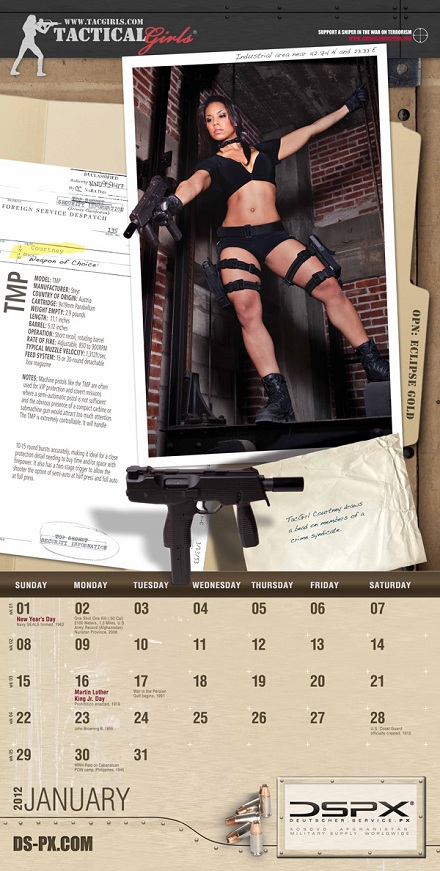 January is named for the Roman god of gates and doors, and it's the month of Tac Girl Courtney Rose. Courtney is a professional model currently pursuing her MBA (graduating in '08 with her Bachelor's Degree from Northeaster State University in Oklahoma) with the intention of getting a PhD. She's from a small town in Oklahoma and is one of nine kids—her determination to open and succeed with her own business pushes her to excel.
Bust? 34
Waist? 25
Hips? 36
Height? 5'3
Approximate age? 26
Home town? Glenpool, OK
Currently live? Tulsa
Your personal soundtrack…pick three songs, one to fight to, one to dance to, one to relax to:
1. One to fight to: Limp Bizkit "Break Something"

2. One to dance to: Kings of Leon "Manhattan"

3. One to relax to: Joe Bonamasse "Prisoner"

Favorite Rifle Accessory: The ACOG is very cool
Pistols? – 9mm, .45 or Other: .45 Automatic
Cans or going loud: GOING LOUD! lol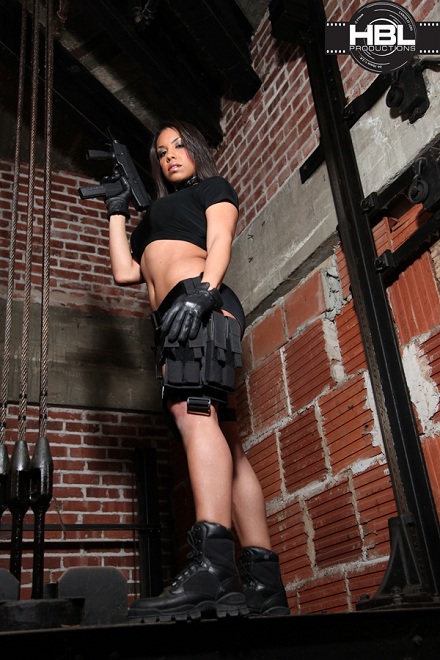 Tactics: dynamic entry or deliberate search? Deliberate search! I like things to be direct, I like to take control and handle the situation 😉
Preferred Work-out or PT regimen? High Intensity Interval Training also known as HIIT
Rough it in the field or Creature Comforts (camp in a tent or an RV?)
I'm roughin' it. I like challenges and I love the outdoors.

Boy shorts, Thong, Cheeky or Go Commando? Definitely cheeky…you're supposed to accentuate your assets lol
Long-Term Professional Goal? After I complete my Masters Degree in December I want to obtain my Doctorate then I want to own and operate my own business.

Hunting, fishing, hiking, camping or hell no I'm staying indoors? Fishing! It's so relaxing. I grew up fishing with my dad and brother and I love it.
Favorite sport/team? Lakers!!
Favorite military or action movie? It's a draw between Inglorious Bastards and Expendables…but I know I want the gun that Terry Crews had (AA-12) when he said "Remember this *$@! at Christmas" lol

Military or Police in your family? Military. The Navy and Army Reserves. I currently work for the Army myself. Hoorah!
What do you think is the best junk food? Cherry Garcia by Ben & Jerry's
Favorite camouflage? Army MultiCam
Justice League, Avengers, X-Men, other or hell no I'm not a dork? X-Men!! I always wanted to be Jean Gray

Website or Facebook URL? Courtneyroseonline.com and http://www.facebook.com/courtneyroseonline
One of the guys from Frontline or History Channel with a cool voice is talking about you in a bio. What does he say?
As well as being a full time student and professional, Courtney is building her career as one of the hottest rising models. She signed her first contract with Forty Models under manager Tai Jones in 2009. Courtney has appeared in numerous music videos which include: Super Jay "Put It On the Set," directed by Boomtown, Dorrough ft. Yo Gotti "Hood Chick Fetish," and Throwed "Tip Toe," just to name a few. Courtney has also appeared at many events such as Biker Boyz Weekend, Black and White Affair, and T.O.'s All Star Weekend party, and much more. She has been featured on websites such as Hoodbeats.com as well as Urbancandyshop.com. Her career in modeling is promising and she is definitely the next "it" girl in the industry.
When Courtney isn't busy working you will find her with friends and family, at the bowling alley or relaxing at home. Bowling is one of her hobbies as well as writing and watching movies. Courtney comes from a large family; she is one of nine children. She has encountered a few hardships in her life but maintaining a strong support system with family and friends and remaining focused has helped get her through some extremely tough times.