As you may have already seen, the team at Action Figure Therapy have added a new character to their roster—at long last, a US Marine. One of the Soldier Systems-Tactical Fanboy eee-light writin' unit of tactical bloggers caught up with Dan Bialek, the man behind AFT, and asked him for some details about the decision to add a gyrene to the mix. He told us there'd been calls for a Marine AFT character for a long time, that it was a foregone conclusion that they would add one…the question was how to do it.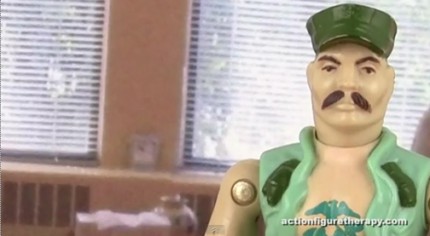 "The decision for a Marine character took a lot of thought," Dan said. "Obviously there was a lot of demand for it, and we try to listen to our fans, but we want to remain autonomous and not pander. That would ruin the series and we wouldn't suit everybody anyway. We put two or three different posts up on Facebook…got between 150 to 300 responses at a time. [He laughs.] Some were constructive and some weren't, some were printable and some weren't."
It might surprise a lot of AFT fans just how seriously the comedy team took the decision. It frequently does surprise people once they learn how much time goes into the AFT video process. Determining subject matter (frequently based on suggestions from their fans), writing the scripts, recording the audio, rerecording the audio if it doesn't come out right… There is a lot to it. As simple, crude, at times brutally profane as the series is none of it is taken lightly, or written off-hand. They knew they had to get their jarhead right, because they'd only be introducing the new Marine once.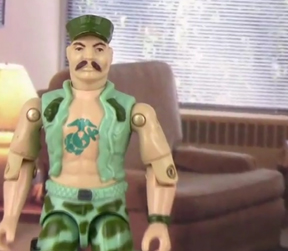 "We did a ton of research for the Marine charcter," said Dan. "Watched a lot of documentaries, read a bunch, took everything everyone said or told us and took it all into consideration. We didn't want to just throw together a hodge-podge of clichés, especially from a character from a branch of the service we'd never featured before."
It was obvious Dan and his crew like the way the Marine's personality and demeanor turned out.
"This character is always right, even if he knows he's wrong. His ethos is that he's always right…we wanted to reflect that attitude a lot of Marines seemed to express. They have this…it's almost like they're proud of living as hard and being treated as badly as they are…where they love the Corps but they know the Corps shits on them so f#*& the Corps but they love the Corps at the same time. It's their Marine Corps."
Watch the AFT video Semper Fidelis.
They must've done their research right, and their writing must've been more inspired than usual. The new AFT Marine video is on track to be their most popular video yet, and the ending is sublime.
"We were very proud of the ending…we thought it was clever and an accurate solution to the stereotype people expected. We didn't want just that cliché. Jerry [Jerry, the voice of the Marine character] recorded the video one night and it was super funny, but I knew the voice wasn't quite what it needed to be, so I called him and asked him to come back over and do the voice again meaner and louder. When he came back over he just sort of absorbed the character and we thought…people are going to like this character."
Dan was right. A lot of people do like the Devil Dog and are standing by for his next diatribe. "Honest to God, dick blood and tears. Try it!"
If you're interested, go over to AFT creator Dan Bialek's Facebook page and download a free copy of his standup CD. Just click the "Free CD" tab on the left side of his page to get it. You should also watch their website and Facebook page for updates on seeing the AFT characters in person. They're currently looking for CONUS bases (mostly in the southern California area, to start with) that might be open to letting them perform.
We'd like to thank Dan Bialek and his beloved, vitriolic cast for taking the time to talk to us and helping us reach us new heights in profanity.
"You don't believe Marines are tough? We train our testicles to fist bump after every kill!"
Tags: Action Figure Therapy, Morale, Youtube