Described as "…a fun new way of teaching the importance of emergency preparedness.", the CDC's '"Preparedness 101: Zombie Pandemic" is a graphic novel that uses the always nightmarish Zombie pandemic as a frame for teaching people about the importance of having an emergency kit. Seriously, the last pages include an item checklist for that very purpose. Blatant advertising aside, the art isn't the worst I've seen and the story is almost passable. It also features quite a bit of unintended hilarity. For example: because it's from the CDC, all opportunities for full-on violence are completely abandoned for a good-ole' dose of political correctness, which leads what is unequivocally the best part of the whole graphic novel: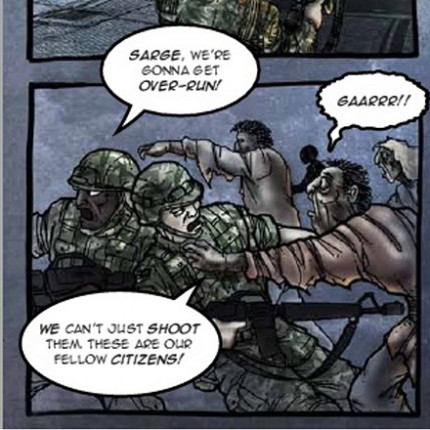 You can read it here.
Thanks to reader Jerry Mills for the tip.