MultiCam has gained more prominence in the entertainment industry, being featured in recent movies, tv shows, and video games. Here's a few examples of some high profile games that have featured MultiCam in some capacity.
The first instance in the CoD series featuring MultiCam starts at Modern Warfare 2. Though not directly mentioned, it seems like members of the multinational Special Forces group Task Force 141 featured in the campaign and Multiplayer are wearing a MultiCam variant that makes up the coloring of their kit and pants.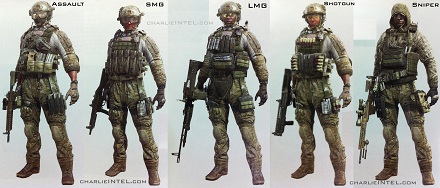 Modern Warfare 3 is one of the few games that feature MultiCam by name. If you've played MW3, or watched any videos online, then it's likely you've noticed that Metal Team, the campaign's resident Delta operators, are decked out in MultiCam battle uniforms, as are the Delta multiplayer models. It's also an unlockable weapon's skin that can be used on all the game's primaries.
Finally, Battlefield 3 has MultiCam as worn by the Marine EOD operator in your squad in Single Player. It's also an unlockable multiplayer skin as 'Paratrooper' camo (pause at 0:47).
Tags: Battlefield 3, Camo, MultiCam, MW3, Youtube