The Tac Girl of the week is a tall drink of water; she's hot, she's sweet, she likes Halo and prefers the .50 Cal. Hard to beat that.  Check out the eyes, and note how Vanessa accessorizes.
INTREP, VANESSA SWAINSTON, JUNE TAC-GIRL (1 EA)
Bust: 34
Waist: 26
Hips: 36
Height: 5'10"
Approximate age? 30
Home town? Tulsa, OK
Currently live? Broken Arrow, OK
Your personal soundtrack…pick three songs, one to fight to, one to dance to, one to relax to:
1. One to fight to: Going Down, Sick Puppies
2. One to dance to: Anything Katy Perry or Maroon 5
One to relax to: Rain, Bruno Mars
Favorite Rifle Accessory: A silencer for both guns and a TEA Headset for my personal bling!
9mm, .45 or Other: .50 Cal of course!
Cans or going loud? Can
Tactics: dynamic entry or deliberate search? Dynamic entry
Preferred Work-out or PT regimen? My preferred workout is running and kettle bell exercises
Rough it in the field or Creature Comforts and Snivel Kit? Creature comforts and snivel kit
Boy shorts, Thong, Cheeky or Go Commando? Boy shorts
Long-Term Professional Goal? I'm a VIP Host at the Hard Rock Casino….  LOVE my job!  I hope to keep moving up in my career.  I also want to keep modeling and do promotions on the side as long as time permits.
Hunting, fishing, hiking, camping or hell no I'm staying indoors? I'm down for all of it! (I just don't kill animals though)….
Favorite sport/team? Sooners baby!
Favorite military or action movie? Full Metal Jacket
Military or Police in your family? YES!  My dad was military police.  My uncle was also military.
What do you think is the best pogie bait? Reese's Peanut Butter Cups
Favorite camouflage? Desert
Justice League, Avengers, X-Men, other or hell no I'm not a dork? Avengers (I LOVE DORKS!!!)
Favorite First Person Shooter Game: Halo
Fixed Blade or Folder? Fixed blade
Your website or FB page? http://www.facebook.com/vanessaswainston or http://vanessaswainston.webs.com/
One of the guys from Frontline or History Channel with a cool voice is talking about you in a bio. What does he say?
Vanessa was born and raised in Tulsa, Oklahoma. Sh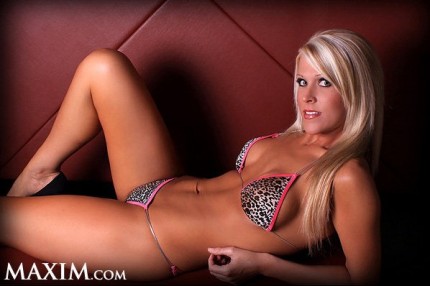 e spends most of her time surrounded by family and friends, and likes chocolate, strawberries, Starbucks and the .50 Barrett. Her ideal vacation spot is pretty much anywhere one the beach, her favorite animal is the TIGER and her favorite color is green. You've probably seen her before. She was a Maxim Hometown Hottie, was an OKFIGHTNEWS hottie, was in last years Tac Girls Calendar, has been an MMA/FCF Ring Card Girl…and she is very, very pro-military.
"I want to thank all the military and servicemen that sacrifice so much so that we can remain a free country and that we can sleep peace at night, resting in the security of knowing that our freedom is in good hands. My sincerest thanks! God Bless!" Vanessa
Use coupon code TGC-MJ-12 if you want to buy a Tac Girls calendar, and go find Vanessa on Facebook!
Tags: Tac Girl of the Week