Here's something you don't see every day. Soldier of Fortune Magazine, as in the long-time "magazine for professional adventurers" published by Lt. Col. Robert K. Brown (USAR, Ret.) has teamed up with a comic company called Bluewater Productions to release a comic series called Soldier of Fortune Presents: Stealth.
In the official press release, Col. Brown advised it would be a "…real adventure graphic novel for real men."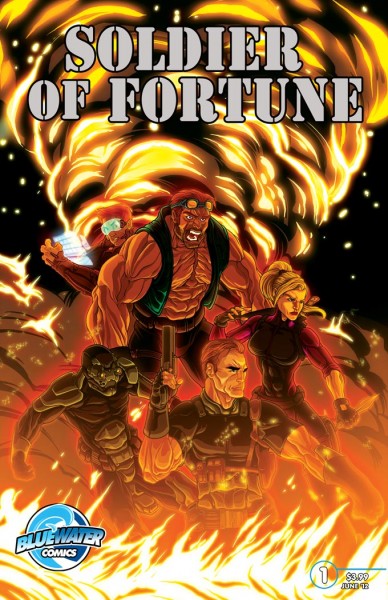 Bluewater Productions prints a wide array of comics, everything from Logan's Run to Vincent Price Presents to Mitt Romney: the Comic.
SoF Presents (at least the first one) will be written by Mar Shapiro, an Army veteran. He advises, "I'm writing Soldiers Of Fortune with the idea of creating the ultimate war comic. Lots of action, lots of humor, lots of character and more firepower than you can shake a bazooka at. Big guns. Big attitude. Guts and grit."
The artwork is by Steven Black. The book revolves around a secret special operations team contracted by Uncle Sam to handle jobs too politically sensitive for USSOCOM (or those that would just be too impractical for the military). SoF advertisers will have product placement in the comic.
Several of Soldier of Fortune's advertisers will have product placement in the comic.  According to Bluewater's president Darren Davis, "If a character is using a grenade launcher, firearm or any piece of paramilitary hardware, it will be an accurate depiction of a current brand…
The first issue comes out in June. It will be called One of Our Nukes is Missing.  It will be a traditional 32-page first format and will retail for $3.99. SoF Presents: Stealth will be available through traditional retail and online outlets including the Soldier of Fortune website.
Tags: SoF, Soldier of Fortune