I attended the HSP Winter Problem Solver course in Telluride, Colorado from March 31st through April 4th. This was my first time attending a mountaineering/survival course.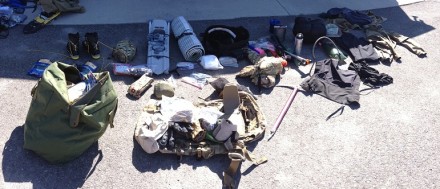 Like any course, the Winter Problem Solver had its required equipment list:
-Winter appropriate clothing
-Winter hiking boots
-Cold weather hat, shade hat with brim
-Practical knife or multitool
-Sun screen
-Sun eye pro
-Water hydrating device
-Individual first aid/trauma kit or IFAK
-Quality headlamp + batteries
-Snowshoes
-Retractable ski poles
-Quality lightweight sleeping bag rated to 0*F
-Lightweight durable air mattress
-2 aluminum climbing rated locking carabiners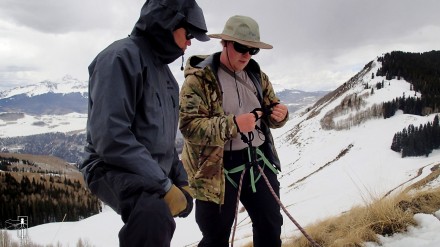 To meet these requirements, the entire time I wore the Helly Hansen Dry Fly Pant, Arc'teryx LEAF Combat Pants, and an Arc'teryx Envoy SS shirt; the socks I used were the Darn Tough Vermont Extreme Cold Weather/Mountaineering Sock. The weather, surprisingly, wasn't that cold with some days reaching highs up to the mid 50s. The addition of an extra layer or two, mostly a Crye Precision WindLiner and/or an Arc'teryx Atom SV Hoodie in MultiCam, proved more than enough clothing wise. The boots I wore were the Salewa Pro Guide Insulated Mountaineering boot, which I supplemented with a pair of OR Crocodile gaiters. Throughout the course, I wore an OR Seattle Sombrero because of its waterproof properties in addition to the wide brim which kept the sunlight out of my eyes, although I did have several other options for head covers, including an Outdoor Research Radiant Beanie, Outdoor Research Novo Watch Cap, Under Armor ColdGear Tactical Hood, The North Face Windstopper High Point Hat, and a black neoprene half-face mask. I also carried a pair of OR PS150 gloves and a pair of Arc'teryx Alpha SV gloves.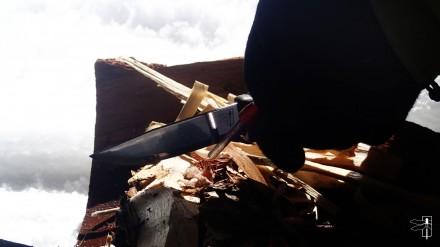 Each member of the class was issued an HSP-branded Mora knife and Klean Kanteen before going out in the field, so although I brought my own knife, multitool, and hydration bladder, these items were ultimately unused and only added weight to my pack. We were issued, if needed, a climbing harness, helmet, shovel*, and ice axe. Mountain meals, rope and tubular nylon, beacons*, probes*, and other class materials were also provided by HSP. I had my own cooking stove, an MSR Reactor, and helmet, a Team Wendy Exfil Tactical Bump Helmet. My snowshoes and poles were both MSR Denali. The sleeping bag was a The North Face 0 degree Dark Star which I used with an REI Minimalist bivy sack. I paired this with a Therm-a-Rest RidgeRest SOLite; being a closed-cell foam pad, it didn't suffer from deflation or potential puncture damage like an inflatable pad would. I also brought sunscreen, two carabiners, a Tikka 2 headlamp, an ITS Tallboy trauma kit and pouch, and a pair of Smith Cascade Classic Snow Goggles in addition to my personal sunglasses; I ended up not needing the goggles.
One thing that wasn't mentioned on the list but ended up being required was a pair of camp shoes, slippers or other lightweight shoes for moving around a cabin. I just used my socks and changed out to a new pair just before sleeping, although this isn't suggested. Other miscellaneous items I brought that weren't on the list included a fire starting kit, snacks, a GSI Fairshare Mug, and toilet paper.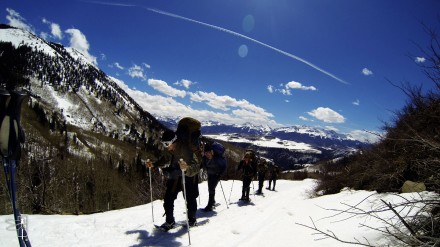 All together, my fully-loaded pack, an Arc'teryx Khyber 80 in MultiCam, weighed in at just under 50 lbs, quite a bit heavier than what would be suggested. Unnecessary items included the aforementioned knife, multitool, hydration bladder, and goggles, along with additional hard shell layers, heavyweight base layer, trauma kit w/ pouch, and (arguably) my sleeping pad. Ultimately, given the planned environment, it was better to have these items and not need them than suffer without.
It's also worth mentioning that I didn't feel at all under prepared with the equipment I brought with me. I did, however, manage to snap my Light My Fire Spork Extra-Medium in half while I was cleaning it; going in with an extra spork, or possibly one made of metal would have been a solid decision.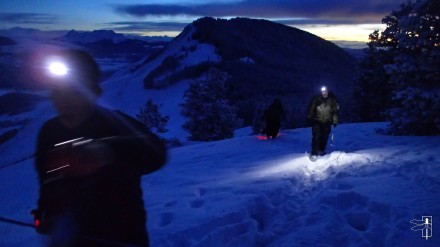 *The beacons, probes, and shovels were graciously provided by Backcountry Access.
Stay tuned for more information on the HSP Winter Problem Solver, including a full report on the course proper.