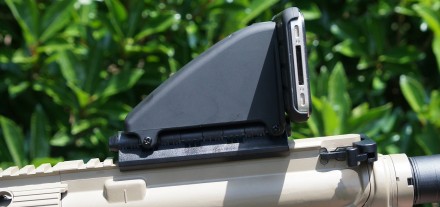 The folks at InteliScope, LLC were kind enough to send us a prototype tactical mount and access to their beta app. The tactical mount secures snugly to a standard picatinny rail. Although it wasn't included, an additional component would allow the mount to be attached to a Nerf N-Strike rail. The mount comes with three cases, sized for an iPhone 4S, iPhone 5, and iPod touch. The cases are made from a hard, lightweight plastic and feature 32 square holes on the back that allow the device to attach to the mount.

The InteliScope app allows the device to function like a red dot sight, with an enhanced HUD. Given that the app's purpose is largely as a training aid, virtually all aspects of the HUD can be changed: the zero, the reticle style and color, ballistics and firearm data, and whether certain elements are even visible on the screen. The app uses the iPhone/iPod's on board light as a flashlight which can be used with a strobe function. Additional features include a shot timer, the ability to record range sessions to video, up to 5X digital zoom, and even local GPS coordinates and local wind direction and speed.
The InteliScope is currently available for iPhone 4S and 5; the Android version will be available in September.
Tags: InteliScope