Gerber gear offers a selection of knives, flashlights, belts, and other survival tools for the outdoorsman. We purchased a small variety of Gerber survival tools, and put them to the test with our own weekend warriors, our three Boy Scouts. The rules were simple. They could select any of the products that wanted but had to write about their impressions.
Each week, we'll feature a new Gerber product review written by one of the Scouts.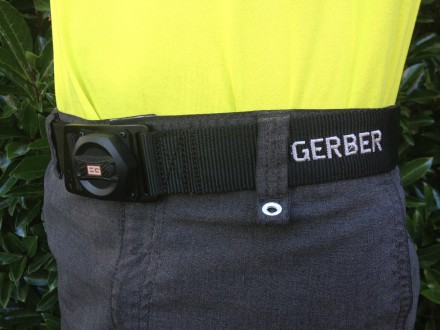 The Bear Grylls Survival Belt has a secret compartment on the belt buckle that you twist counter-clockwise revealing the following tools:
-Snare Wire
-Fishing Line
-Fishing Hook
-Snap Swivels
-Weights
-Signaling Mirror
The back of the belt buckle reveals a mini screwdriver with flathead and Philips tips. Also on the interior of the belt is a zippered compartment.
I like almost everything about this belt. I love the fishing line, fishing hook, snare wire, snap swivels, weights, and how the signaling mirror is located on the back of the cap. Also, it's easy to tighten and loosen. What I dislike about it is the mini screwdriver is really hard to get out and the zipper pocket being on the inside instead of the outside. Overall, the belt is worth having in survival scenarios.
www.gerbergear.com/Survival/Gear/Bear-Grylls-Survival-Belt_31-001771
Tags: Gerber Gear Round Up