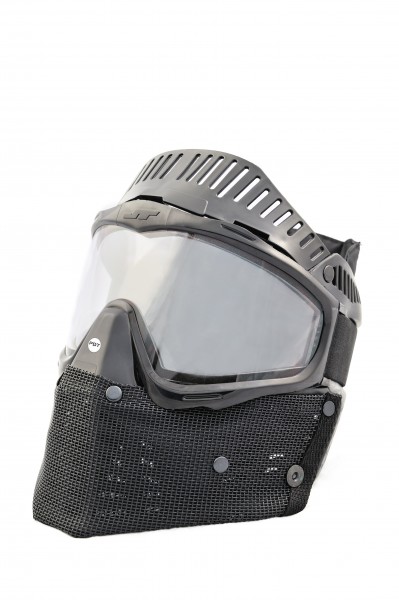 ALAMO, Calif. – October 3, 2013 – Practical Defense Training Technologies (PDT) today announced the availability of its Force 1 Helmet to the Airsoft market. Previously, PDT products have been available exclusively to the military and law enforcement communities for non-lethal training ammunition (NLTA) engagements. With its broad market release, civilian Airsoft enthusiasts can now access military-grade helmets that provide the ultimate fit, form and function.
The Force 1 helmet incorporates a full face mask to provide superior impact protection. PDT engineered proper ventilation characteristics into every aspect of the helmet and utilizes proprietary anti-fogging dual lens technology to create true no-fog head armor. Fogging is largely a ventilation issue that results from helmet designs, coupled with the fact that most lower-end helmets use a single lens polycarbonate. Much like dual pane windows, PDT's anti-fogging dual lens helps mitigate the two temperature extremes (hotter inside, colder outside) that cause fogging. This ensures maximum visibility and peripheral vision for a true-to-life kinetic experience during Airsoft engagements.
"Head armor affects performance, as it directly affects the application of senses most closely associated with combative skill development – sight, sound and feel," said Gordon Potter, a 15-year U.S. Army Special Forces veteran and president of PDT Technologies. "Bulky and restrictive designs can obstruct visibility and peripheral vision. PDT's sleek helmet design supports the user's sense of feel to weapon system feature manipulation and employment. Our goal is to keep people safe by preventing, minimizing or eliminating personal injury. We are proud to make this level of personal protective equipment available to the civilian market, while continuing to support military and law enforcement applications of Airsoft for training purposes."

"There are a lot of people using Airsoft out there right now," said Ken Murray, Director of Training, Armiger Police Training Institute and Co-Founder of SIMUNITION®. "Airsoft can embed in your skin, knock out your teeth, and certainly destroy your eyes. People say one of the advantages of Airsoft is that you don't need all this personal protective equipment. They're absolutely wrong. In my opinion, if you're going to be conducting Airsoft training, you should use the same level of protective gear as that used for conventional marketing cartridges. I'm a big fan of PDT's gear. From the helmet to the neck protector and protective hood, this is just the top gear on the planet. PDT is certainly the best helmet that I've seen in the market. The first and foremost feature is that this thing just does not fog. I can always see clearly through this helmet. It's also very comfortable and non-claustrophobic."
Conducting Airsoft training or recreation without the use of proper protective equipment can result in serious injuries, with the eyes, ears, face and neck being most prone to projectile strikes. PDT's helmet is made from resilient molded mask parts that offer superior impact protection. A durable mesh cover in the lower mask prevents projectiles from passing through and promotes optimal airflow. A rubber goggle frame with soft gaskets fits comfortably against the face. Backside padded head protection is made from durable rip stop nylon material, and perforated ear cover protection prevents loss of audibility. When used in conjunction with PDT's neck armor and padded hood, the Force 1 helmet ensures complete impact protection with no skin exposure. The Force 1 Helmet is also constructed of closed-cell, low density polymer materials that do not absorb moisture, making it easier to wipe and clean for multi-person use.
Regularly priced at $98.95, the Force 1 helmet is currently on sale for the special price of $79.95. PDT also offers a full line of personal protective equipment for Airsoft users, including padded hoods, hand armor, and chest, neck and groin protectors. Items can be purchased individually, or users can take advantage of the PDT Go Bag, which includes a full set of PPE and a marking knife for close quarters combat training, in PDT's signature duffel bag. For more information or to purchase, please call (925) 708-1212 or visit www.pdt-tech.com.
Tags: PDT