Gerber gear offers a selection of knives, flashlights, belts, and other survival tools for the outdoorsman. We purchased a small variety of Gerber survival tools, and put them to the test with our own weekend warriors, our three Boy Scouts. The rules were simple. They could select any of the products that wanted but had to write about their impressions.
Each week, we'll feature a new Gerber product review written by one of the Scouts.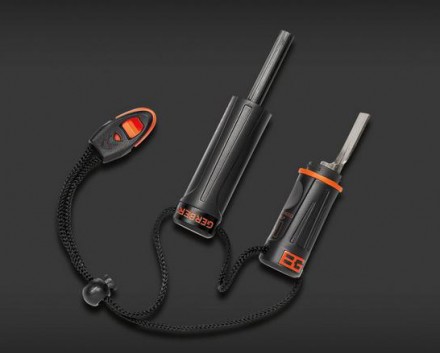 The Bear Grylls Fire Starter is compact and features a ferrocerium rod and metal striker. The laynard has an integrated emergency whistle. It comes with a waterproof storage compartment for tinder. Also included are land to air rescue and SOS instructions printed onto the tool for quick reference.
I like the fire starter because it's compact and has a lanyard so I can keep it around my wrist or tie it to my gear for quick access. The waterproof compartment is useful for keeping tinder around, and the whole fire starter seals together tight. The whistle is nice for emergency situations, as are the quick reference survival instructions.
www.gerbergear.com/Survival/Gear/Survival-Series-Fire-Starter_31-000699
By Titus Graves
Tags: Gerber Gear Round Up