Gerber gear offers a selection of knives, flashlights, belts, and other survival tools for the outdoorsman. We purchased a small variety of Gerber survival tools, and put them to the test with our own weekend warriors, our three Boy Scouts. The rules were simple. They could select any of the products that wanted but had to write about their impressions.
Each week, we'll feature a new Gerber product review written by one of the Scouts.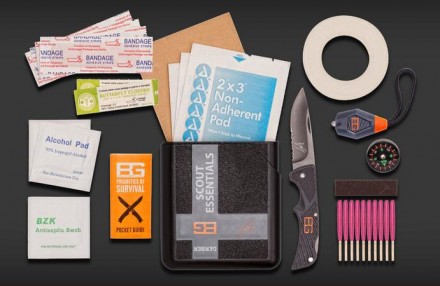 The Bear Grylls Scout Essentials Kit is a polypropylene case that doubles as a water capturing device, filled with these survival essential items:
Waterproof Matches
Compact Scout Knife
First Aid Kit
LED Micro Torch Light
Button Compass
The kit also contains a Priorities of Survival Guide.
I like this kit because everything in it is useful when outdoors. The basic first aid kit would be good for treating minor injuries, and having a knife and light with you is always useful. The matches and compass would also serve well in a survival situation. I also like how the case also has use as a water catcher.
www.gerbergear.com/Survival/Gear/Bear-Grylls-Scout-Essentials-Kit_31-001078

Tags: Gerber Gear Round Up