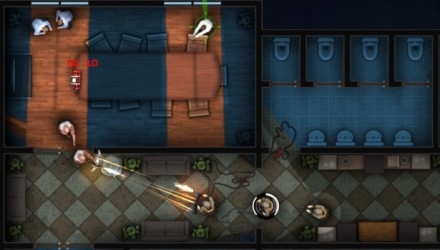 New classes, experience gain, and bug fixes galore. DoorKickers has added plenty of brand new features in the latest Alpha 8 build.
The following features and fixes have been implemented into the newest build:
Features:
– Shield trooper class
– Snipers (off map asset available in select missions)
– Windows
– Troopers gain XP and advance in rank (though nothing to do with that, yet!)
– Better enemy AI + pathfinding
– Added "open replays folder" option + replays file name
– Improvements on trooper control
Fixes:
– Trooper statistics are no longer updated after watching a replay
– Less sounds overlapping in replays
– Stealth Class no longer kicks doors
– Silenced weapons are no longer heard through walls
– Flashbang target no longer resets to default when setting a gocode
– Fixed a bug where a dead trooper would not be replaced
– Fixed a bug where completing HostageRescue on a mission with more than 1 rescue zone would not end mission
– Fixed playing "Aborting" sound after shotgun-breaching a locked door
– Fixed a couple of crashes, tweaked some stuff and in general improved the game in too many ways to mention here.
As always, you can buy access to the latest Alpha build which includes the full version upon release at the official website – inthekillhouse.com/
Tags: DoorKickers