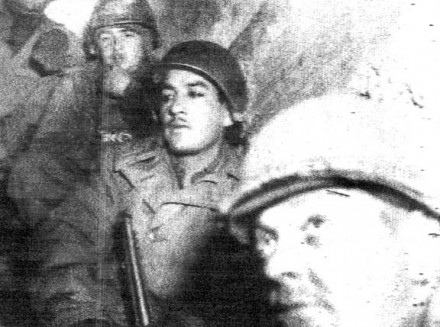 Part of Company C, 1st Battalion, 317th Infantry Regiment, T/5 Louis J Archambeau was one of 89,000 allied causalities during The Battle of the Bulge. A camera of his was found 70 years later in a foxhole, containing photos from the days leading up to the battle.
The full story and more images can be found here: www.thetroubleshooters.com/80th/archambeau001
Thanks to Travis Getz for the tip!
Edit: Unfortunately, the link was taken down, as was the entire photo gallery. The reasoning is as follows:
UPDATE: I have removed the photos that were originally posted. Unfortunately, embarrassingly, and dishearteningly, at least two of the photos have been found in the National Archives and were not from Louis's camera. Thus, I have removed the entire set. Thetroubleshooters.com has removed the photos as well. To clarify, Mark Anderson and Terry Janes were acting in good faith based on the information provided to them, and the camera was discovered by Mark Anderson at the coordinates provided below. He was not, however, present in the dark room in Echternach (where the film was supposedly developed), nor did he see the negatives or prints. Also, Terry Janes, historian at thetroubleshooters.com, has removed all suspect information from the source that provided the photos. From what I understand, two of the photos are from the US Army Signal Corps. Please accept my sincerest apologies.