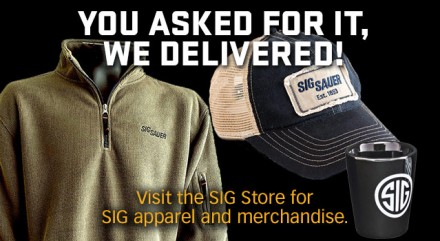 NEWINGTON, N.H. (July 31, 2014) — SIG SAUER® has launched a redesigned webstore, offering an expanded selection of SIG SAUER branded clothing, merchandise, accessories, and a new line of Mitch Rosen designed holsters.
The SIG SAUER webstore has always been the premier online resource for factory parts and accessories. Now fans can show their affinity for the SIG SAUER brand with a selection of men's and women's shirts, sweatshirts, hats, and drinkware.
"SIG SAUER owners are passionate about their firearms," said Jeff Creamer, SIG SAUER Executive Director and Chief Merchandise Manager. "Now they can show that passion with products that fit the SIG SAUER brand."
In addition to new clothing, SIG SAUER has partnered with Mitch Rosen Extraordinary Gunleather to provide a line of SIG SAUER-specific holsters, including hard-to-find holsters for handguns such as the SP2022®, 1911, P320, P250® and P290®. Right- and left-hand models are available in most patterns.
"Mitch Rosen is one of the top holster manufacturers out there, and we're excited to offer these products," Creamer said.
While many of the products in the webstore are new, Creamer said they are just the beginning.
"Expect to see more and more products being added in the future," he said. "We're working with some of the best clothing and accessory manufacturers to develop some really cool items."
Edit: SIG Sauer has revised their shipping rates for SIG apparel. They'll be cutting shipping to $9.95 and offering free shipping on all order $100 or more.
Tags: SIG Sauer