Plano, IL (August 27, 2014) – True innovation is rare. Even in today's world of hyper-technology, advancements are typically applied to improve existing products – only rarely to invent entirely new products based on fresh ideas.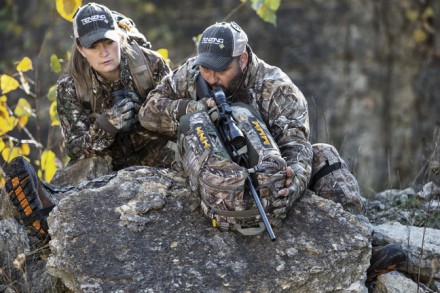 Hosts of the top-rated Archer's Choice and The Choice television programs, Illinois-based Ralph and Vicki Cianciarulo appreciate creativity and know the value of innovation. That's why "America's Favorite Hunting Couple" has been using Tenzing™ packs and lending the company their experience and expertise from the field since the day it launched. "Tenzing is a company of hunters who listens to the ideas of other hunters," says Ralph, who along with Vicki, has collaborated with chief Tenzing designer, Jay Robert, to design a specialized line of packs ideally suited for Midwest whitetail hunting.
"It's a true shooter's pack that will help hunters be more successful by giving them options they never had before," says Ralph Cianciarulo about Tenzing's new TC SP Shooter Pack.
Tenzing's "The Choice" series consists of the TC SP14 Shooter Pack, the TC 1260 Light Day Pack, and the TC 1500 Day Pack. All three packs come standard in Realtree Xtra.
The Tenzing TC SP14 Shooter Pack may be the most unique hunting pack on the planet. Aside from sharing the brand-defining smart technology and practical functionality built into every Tenzing pack, the TC SP14 invents its own product category with two critical breakthrough innovations. It is the only available pack on the market designed to hold a crossbow, and the pack itself is engineered and built as a self-contained shooting rest. That's right, this one-of-a-kind pack carries a scoped rifle in a carefully designed channel on the pack's face, allowing hunters to rest, take aim and fire without ever removing their gun from the pack. Um… and did we mention it is the only hunting pack available designed to carry a crossbow?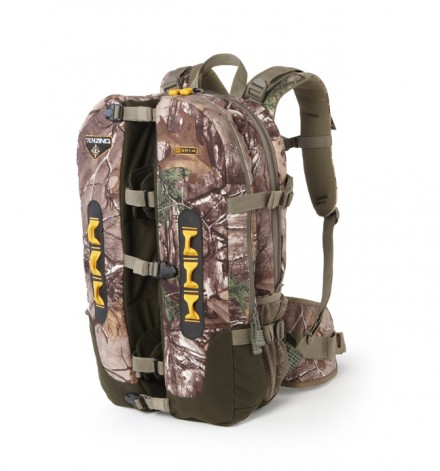 A standout hunting pack on its own merits, the Shooter Pack delivers additional practicality to hunters through its radical yet user-friendly design as an on-board shooting rest.
Crossbows are gaining rapid and widespread popularity in the archery-hunting world, largely due to their particular advantages over compound bows with respect to aiming ease and ultimate accuracy. But crossbows have their disadvantages. They tend to be bulkier and more cumbersome than compounds, which can make them more challenging to use in the field – especially when attempting to hunt or transport them through heavy cover. The unique design of the TC SP14 cradles the stock of any crossbow within its deep center channel, while optimizing the position of the limbs to minimize snagging on brush or branch. "The crossbow is cradled by the pack and doesn't stick out," says Vicki. "This is a pack that solves the problem of how to carry a crossbow… anyone can use it," she concludes.
The TC SP14 is one of very few hunting products that transcends its primary role and purpose. Simply put, there's nothing else like it. A standout hunting pack on its own merits, the Shooter Pack delivers additional practicality to hunters through its radical yet user-friendly design as an on-board shooting rest. "In the mountains or back country, it's a real benefit to keep your gun on your pack," says Ralph. "But critical time can be lost when you need to access it for a shot," he continues. Tenzing addressed this in the unique design of the TC SP14, which keeps the firearm accessible and functional when fully secured to the pack, allowing hunters to go from stalking to shooting in just seconds. Instead of scrambling to remove the firearm from the pack, the pack and firearm quickly come off the hunter's back as one unit, while the pack becomes a steady and functional rest. "It's a true shooter's pack that will help hunters be more successful by giving them options they never had before," Cianciarulo concludes.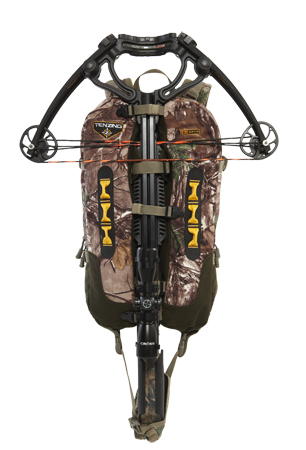 Crossover features aside, hunters will appreciate the TC SP 14's primary capabilities as a pack, which feature a roomy 1600 cubic inches of space inside nine total compartments and pockets. Practical side pockets and useful face and side mounted compression straps help ensure that wearers will be able to pack out more than they pack in.
Whether toting crossbow or firearm, the TC SP14's specialized design offers even more benefits, especially when hauling gear up to a stand. "When secured to the pack, the gun or crossbow doesn't stick out," Vicki says, "which makes hoisting the entire unit up your haul line quick, safe and easy."
As they did with the other two packs in the TC Series, Vicki and Ralph asked Tenzing engineers to apply a soft and silent TRICO® fabric covering over the TC SP14's DYNEEMA® strength panels as a sound deadening measure, a feature which comes in handy when placing or taking items in or out of the pack. "It also makes the pack quieter when it's being used as a shooting rest," Ralph adds.
Like all Tenzing packs, the TC SP14 is a dream to wear, courtesy of its padded hip panels and breathable mesh back pad. But Vicki and Ralph's "The Choice" Series packs don't stop there. They feature a new Comfort Stretch Waistbelt System employing concealed elastic straps that automatically adjust for a perfect fit, no matter how many layers of clothing the hunter happens to be wearing.
KEY FEATURES:
– Carries Gun or Crossbow
– Breathable Mesh Back Pad
– Padded Hip Panels
– H2O Compatible (2-Liter)
– Nine Total Compartments and Pockets
– One Internal Fluted Aluminum Frame Stay
– Split Through Center of Pack to Carry Crossbow or Rifle
– Foldout Rain Cover
– Two Specialized Zip Pockets
– Two Horizontal Compression Straps Each Side
– Comfort Stretch Waistbelt System (Min. 30", Max. 54")
– Three Horizontal Compression Straps Across Face
– Two Specialized Compression Straps to go Around Crossbow or Gun
– DYNEEMA® Bottom Covered With Loden TRICO®
– Designed to Use as a Shooting Rest for Rifle
– Specialized One Piece Quiver Holding Bungees on Both Sides
SPECS:
– 1600 Total Cubic Inches
– 4 lb. 6 oz. Total Weight
– Main Compartment: 21" x 11" x 4"
– Face Compartment (x2): 21" x 4.5" x 3.5"
– Side Mesh Pockets (x2): 6" x 3" x 1"
Ralph and Vicki Cianciarulo expand the boundaries of what outdoor television can be each week on their innovative programs. Now, with the introduction of the TC SP14 Shooter Pack, they are helping create new opportunities for success among Tenzing's loyal customers. Never miss another shot opportunity wrestling your gun from its scabbard. Take the breakthrough TC SP14 along on your next hunt, and you'll be taking care of business.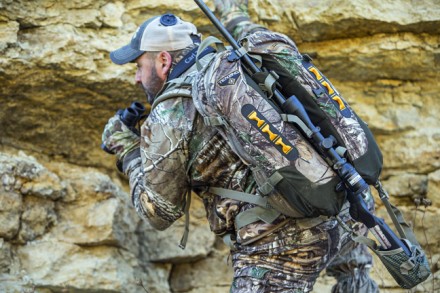 Tags: Tenzing