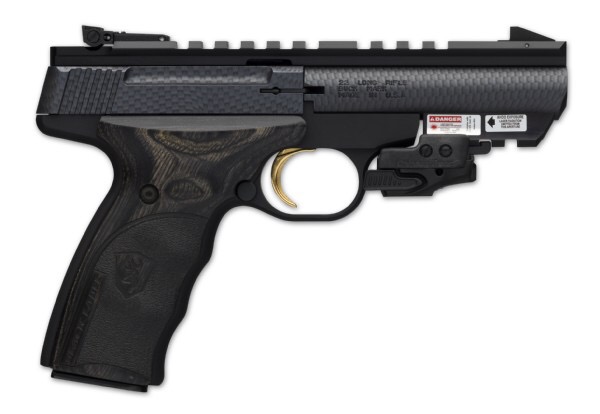 (Wilsonville, OR)—While Browning Buck Mark pistols have been produced for several decades, and made available in many styles, the newest version introduced at the recent 2015 Shooting, Hunting and Outdoor Trade (SHOT) Show is a tactical Buck Mark .22 pistol equipped with a Crimson Trace Rail Master. The Browning Buck Mark Black Label Carbon Fiber has a unique carbon fiber finish, a 4-inch steel barrel and an under barrel accessory rail. The firearms are shipped with a red Crimson Trace Rail Master laser sight pre-installed on that rail.
"We are very pleased to have a laser sight pre-installed on such a high-quality Browning product," said Jeff Goddard, Crimson Trace Director of Sales. The new Buck Mark Black Label Carbon Fiber features textured grip panels, a gold plated trigger, and detachable magazine. There is also a second model, the Buck Mark Black Label Carbon Fiber Pink, with unique pink grips. The equipped handguns can be seen at: www.browning.com.
Crimson Trace's Rail Masters are well known for being small, powerful, easy to operate, and for producing a brilliant laser dot onto the target. Rail Masters have been available with red diodes, and are now available with green diodes—the affordable CMR-206. Rail Masters feature tap-on Instant Activation, provide three modes of operation (momentary, strobe and constant on) and can be easily and quickly attached to nearly any firearm's rails with Crimson Trace's proprietary Secure Lock Technology.
Crimson Trace laser sights and light products can also be found pre-installed on firearms from Kimber, Ruger, Smith & Wesson, Beretta and others.
Tags: Browning, Crimson Trace