Crimson Trace has revealed that their Rail Master (CMR-201s) laser sights were used in the recently released Jurassic World movie. The full release can be read below: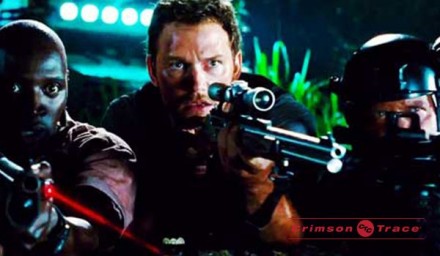 (Wilsonville, OR) — Anyone viewing the mega blockbuster movie—Jurassic World— will notice the very prominent red laser sights on the firearms used by the InGen rangers when they encounter an escaped and deadly dinosaur. The movie's firearms used in the dark jungle night encounter were equipped with standard Crimson Trace Rail Master (CMR-201s) laser sights and not created movie prop productions. Those specially selected movie laser sights are among the nearly 200 products manufactured by Crimson Trace.
"Early on in the Pre-Production of Universal Pictures' "Jurassic World," when the time came for us to outfit the elite InGen team with laser sighting devices to regain control of the park, only one company came to mind—Crimson Trace," said Guillaume Delouche, the movie's Property-Master. "Crimson Trace's line of lasers is not only versatile, it is literally perfect for movie prop applications. We are able to fit them onto our collection of real—and stunt—firearms for an authentic tactical feel throughout every sequence."
Crimson Trace frequently works with top Hollywood and New York prop companies and movie production crews across America. Those skilled groups are learning through firearms manufacturers, law enforcement and military units, plus from active shooters who are movie consultants, about the benefits of laser sights for firearms. As many movies are planned in detail—such as Jurassic World was—Crimson Trace is contacted about working with the prop and production company staff to determine the firearms to be used and the compatible Crimson Trace products available. Today, more of those decisions for the filming centers on determining whether they want green or red laser sights. Crimson Trace offers a wide selection of both.
A special Jurassic World movie premier event was held in Bozeman, Montana in partnership with the Museum of the Rockies — www.museumoftherockies.org. Key movie stars, industry media members, along with several Crimson Trace partner companies, attended the special movie premier and series of related events. The media members represented some of the nation's top firearms publications, including: NRA Family Insights, SHOT Business, The Outdoorwire, Gun World, Harris Publishing and others. This event also included touring BLACKHAWK! and FLIR Systems facilities in Montana.
Tags: Crimson Trace, Jurassic World