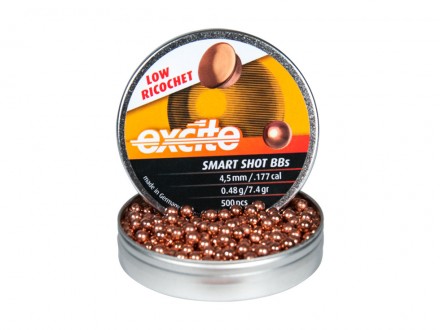 Cleveland, Ohio (October 27, 2015) – Air Venturi, an exclusive airgun, airsoft and ammunition importer of leading international airgun brands, astonishes airgunners with news of the first notable BB safety innovation in nearly 100 years. The groundbreaking new Smart Shot BBs feature a double coating of copper plating surrounding heavyweight, lead shot. Since resistance to ricochet is exceptional with the new Smart Shot BBs, many safe options for various types of hard targets and shooting disciplines are now available to shooters.
According to Paul Milkovich, Air Venturi's director of business development, "A new world of shooting opportunities are unlocked with Smart Shot BBs due to the safety enhancements of their greatly reduced ricochet properties. Bounce back from steel targets is markedly less because these BBs flatten out and drop to the ground rather than rebounding like steel BBs."
Smart Shot BBs undergo the copper plating process two times. That extra step provides enough rigidity to prevent deformation of lead in the magazine and gun barrel, but still allows the softer BB to compress on impact. "A flat BB means less ricochet, less worries and a safer shooting environment for you," says Milkovich. "Since the Smart Shot BBs keep their shape so well, they're a better choice for spring-loaded BB magazines. And even though they're heavier than steel BBs they're the exact same diameter at 4.35mm."
Another advantage of Smart Shot BBs is their distance and power; especially when shot from pneumatic or CO2 powered guns. "These BBs hit harder because the lightweight steel of traditional BBs has been replaced with much heavier lead," Milkovich stated. They also have less friction and remain clean from oxidation during handling and storage because of their copper plating. "All of these features make Smart Shot BBs a superb option for gallery rifles and indoor shooting ranges," he said.
What does that mean for the casual plinker or target shooter? "You know the BB gun in your closet collecting dust because you can't shoot it in your basement or backyard for fear of ricochet? Well now you can enjoy it again with Smart Shot BBs," he says. "It's been about 95 years since mass-produced lead BBs offered people the option of using BB guns to shoot at hard surfaces like a steel target. Now airgunners can worry less about ricochet and cleanliness and simply spend more time shooting. You may even consider something as exciting as competing in Cowboy Action Shooting with a BB handgun or rifle," says Milkovich. "Choose the heavyweight Smart Shot BBs and you'll be pleasantly surprised by their performance, penetration and low ricochet. Just remember that you and everyone around you should always wear eye protection during any shooting activities."
Tags: Air Venturi