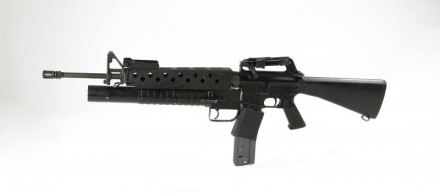 The prop M203 used in the movie Scarface by Tony Montana is now available for auction. The launcher is a custom job, individually hand crafted by the studio prop department with an extra-large trigger guard and wider ribbing on the barrel than an actual M203. After Scarface, the prop M203 was used in several other productions, with Predator being a notable example.
The launcher is connected to a non-firing replica Colt AR15, identical to the live firing gun used in most of the gunfire sequences. Originally, an M16A1 was used, however Scarface cinematographer John Alonzo determined "that the AR15's firing sequence could be timed to synchronize with the Arriflex cameras, which would result in elongating the duration of muzzle flashes seen on film." Cool stuff.
The prop launcher/rifle combo is currently at $13,000, with a starting bid of $10,000, and an estimated ending bid of $20,000 – $30,000. A bit too rich for my blood, but an iconic bit of cinema history regardless.
www.julienslive.com/view-auctions/catalog/id/167/lot/69338
Tags: Scarface