Strongarm Fixed Blade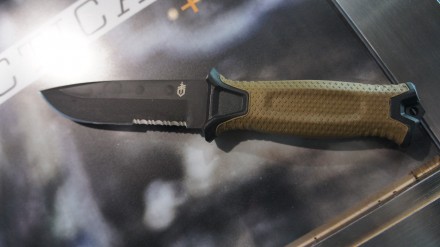 The Strongarm is one of Gerber's most popular fixed blade knives. It consists of a full tang 420 HC steel blade, with a rubberized diamond-texture grip. The Strongarm comes complete with a multi-mount, MOLLE-compatible sheath.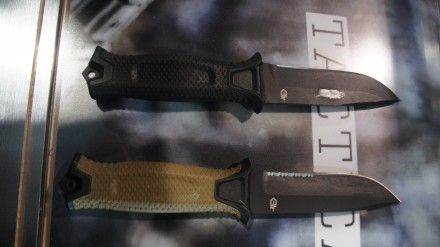 Available in Black and Tan handle finishes, and with or without blade serration.
Ghoststrike Fixed Blade w/ Ankle Wrap Sheath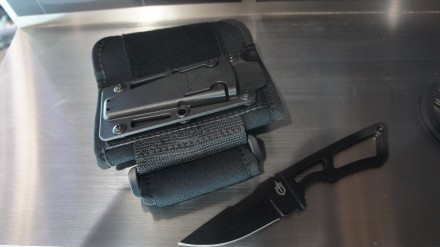 Gerber's Ghoststrike is a fixed blade knife with a drop point, fine edge blade, made of 420 HC ceramic coated steel. The handle is skeletonized, with a rugged texture for a sure grip. The Ghoststrike can be purchased with an ankle wrap holster, which allows for the Ghoststrike to be utilized as a concealed and/or backup blade.
Freescape Camp Kitchen Kit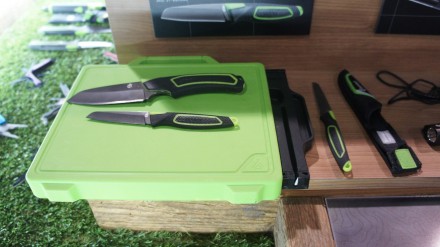 A bit different than the other offerings I checked out at the booth, the Freescape Camp Kitchen Kit is nonetheless worth taking a look at. The Camp Kitchen Kit comes with the Camp Kitchen and Paring Knives, a built-in ceramic sharpener, locking drawer, and drip channel around the board. The case itself is bright green, which matches the handle accents of the included knives, and makes it easy to identify.
39 Series Knives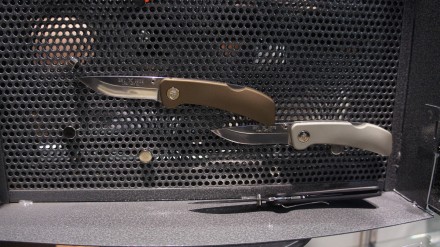 The 39 Series is a collection of blades that hearkens back to Gerber's start as a blade maker. The 39 Series features a 420 HC steel blade, and a cero-coated stainless steel handle. The blades will be available in sizes Small and Large, in Black, Gold, and Silver finishes. These are an "indie-dealer" exclusive, so you won't be seeing these at any big-box retailer.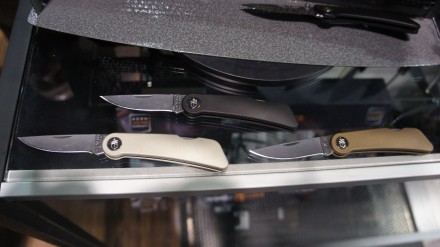 Be on the lookout for the 39 Series Knives later this year.
Tags: Gerber Gear, SHOT Show