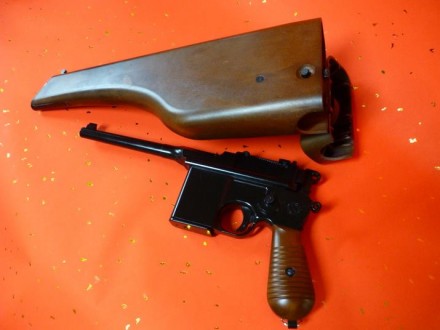 The C96 Mauser is one of the most iconic pistols of all time, at least partially due to its inclusion in various forms of media, principally as the basis for Han Solo's DL-44 Heavy Blaster Pistol. WE Airsoft has just come up with their own take on it, dubbed the WE Classic Pistol. Available as a special collector package, the WE Classic Pistol comes with an extended box magazine and full-auto fire capability, making it modeled most after the M712 Schnellfeuer variant. The Classic Pistol even comes with an imitation wood stock/holster, for additional authenticity.
SPECIFICATIONS:
Gun Weight (No Mag): 649g
Gun Weight (With Short Mag): 829g
Gun Weight (With Long Mag): 942g
Short Mag Weight: 180g
Long Mag Weight: 293g
Long Magazine Capacity: 19 Rounds
Short Magazine Capacity: 10 Rounds
Gun Length (no stock): ~292mm
Gun Length (with stock):
Stock/Holster Material: Plastic Imitation Wood Finish
Firing Modes: Semi-Auto/Full-Auto/Safe
Muzzle Velocity: 360 FPS (0.2g BB's, Green Gas)
Action: Single Action Trigger Mechanism
Safety Mechansim: Safety Lever
Trigger Pull: ~4.5 lbs
Front Sight: Fixed Front Sight
Rear Sight: Elevation-adjustable rear sight
Bore Size: 6.05mm (+/- 0.01mm)
Bore Type: Smooth Bore
Inner Barrel Length: ~134mm
FEATURES:
+ Original Breech Mechansim
PACKAGE INCLUDES:
1 x WE Classic Pistol Series – New Pistol
1 x Long Magazine
1 x Custom Made Box
1 x Holster Stock (Imitation Wood)
Be on the lookout for this one at WE Airsoft distributors and retailers soon.
Tags: WE Airsoft