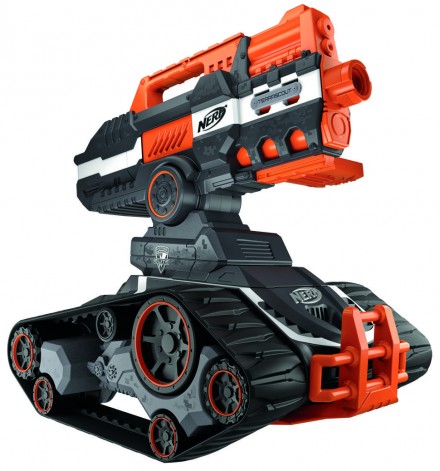 NERF is upping the coolness factor of their N-Strike Elite series with the addition of the upcoming Terrascout RC Drone. The Terracout is a blaster drone that features a 720p video camera, which can be controlled via an included remote; the remote features an integrated LCD screen for live viewing.
The drone itself comes complete with an 18-dart mag/clip, which it fires full-automatic, and is compatible with NERF N-Strike barrel extensions. It is also capable of traveling on (mostly) all terrain via its tank-like treads.
The Terrascout won't be released until this Fall, and it's projected MSRP is $200, which is heavy for anything NERF related. It also features a hi-def on-board camera and is remote controlled, so the price is understandable.
I'm really looking forward to this one.