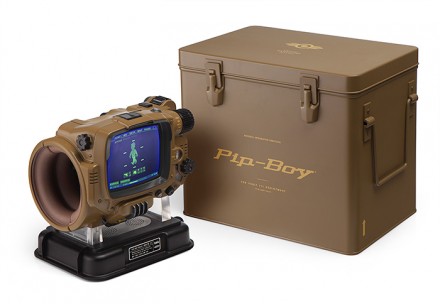 So you missed out on your chance to get one of the very limited Pip-Boy editions of Fallout 4 when they came out, but you really wanted one, and by "one", I mean a wearable Pip-Boy that doubled as an iPhone case. Well, a while ago, ThinkGeek announced that they had the exclusive rights to sell future replicas of the Pip-Boy, and they're finally delivering on that license, with the upcoming Deluxe Edition Bluetooth Pip-Boy.
It's worth noting that this Pip-Boy isn't a glorified phone case like the one that came with the game is, but is actually a self-contained unit with a functioning "Cosplay mode" with status, special, and perks screens; an alarm clock function; and SMS messaging, phone, and audio streaming when connected via Bluetooth to your phone.
The Deluxe Pip-Boy is poised to release November of this year, and has a listed price of $350.