I'm a fan of a good EDC multitool, and with Kickstarter allowing all sorts of ideas to gain fruition, it's no surprise that a bunch of multitools pop up as fundable projects. One such tool is the STK from Kopis Designs. The STK, which stands for 'Sliding Tool and Knife', and could be pronounced like the word 'stick' (although it sure doesn't look like one), is a multitool with an integrated opening and locking mechanism. The frame is made of 6AL4V titanium, and the blade is made of S35VN steel. The blade functions as a straight-edge knife, and also hosts the following features: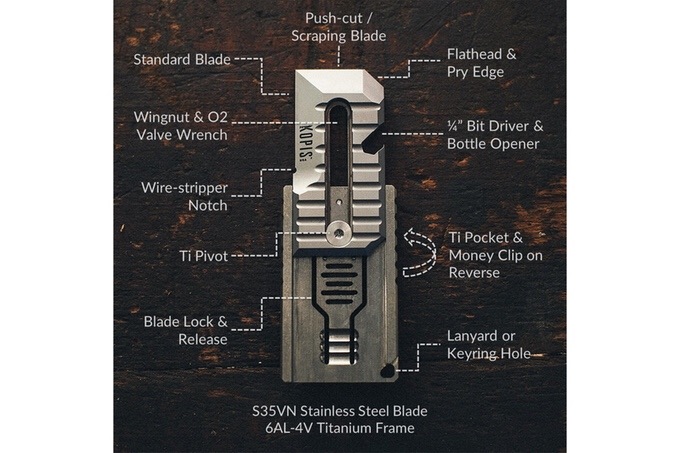 push-cut / scraping blade
flathead/pry edge
1/4″ bit diver
bottle opener
wingnut and O2 valve wrench
wire-striper notch
The STK's opposite end also hosts a titanium pocket clip, which can also double as a money clip, if you feel a wallet is too high profile.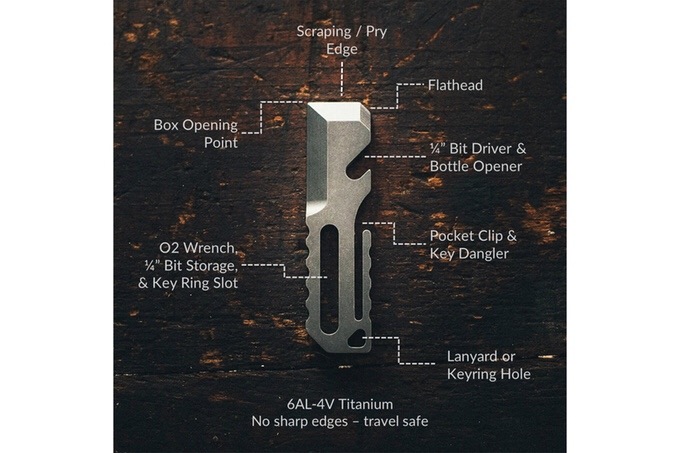 In addition to the STK, Kopis is also offering the Rift EDC tool on the same project campaign. The Rift is very much a companion piece to the STK, with a design very reminiscent of the later, but it is intended as a "travel-safe pry tool"; "travel-safe" in this case means 'intentionally designed with no sharp edges'. Also manufactured of 6AL4V titanium, the Edge features the following tools:
box opening point
scraping / pry edge
flathead
1/4″ bit driver / bottle opener
O2 wrench / 1/4″ bit storage / key ring slot
pocket clip & key dangler
If you like what you see, feel free to click the link below and put more than a few dollars towards the project.
www.kickstarter.com/projects/kopisdesigns/the-stk-multi-tool-sliding-tool-and-knife-for-ever
Tags: Kickstarter, Kopis Designs