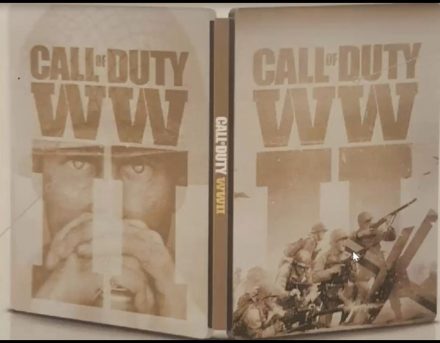 By this point it's not the most breaking news, but for those who aren't aware, the latest game in the long-running Call of Duty franchise is going back to its roots and taking place during World War II. Called 'Call of Duty WWII', the new game is being developed by Sledgehammer Games. There hasn't been a mainline game in the CoD series that takes place during this period since 2008's 'CoD: World at War', developed by Treyarch. Based on the posters and various steel book game cases that were leaked, it looks like the game will take place at least partially on the Western front, with the D-Day invasion being prominently displayed in the promotional materials.
Since the latest Call of Duty titles have been drifting farther and farther into the realm of science fiction and alternate history, it doesn't come as much of a shock that Activision and Sledgehammer are attempting a reset of the franchise, an appeal to those clamoring for a more 'classic CoD experience'. With a game set in World War II, we're pretty much guaranteed a lack of double jumping, infinite sprinting, wallrunning, direct energy weapons, and other now common CoD elements that, interestingly (perhaps ironically) enough, actually started with Sledgehammer's first lone-developed CoD title, 'CoD: Advanced Warfare'.
It's worth mentioning that this may be the start of a trend of AAA developers revisiting historical wars in first person shooter games: EA and DICE took a bit of a risk and just last year introduced 'Battlefield One', a mainline Battlefield title that takes place during World War I, which has paid heavily in their favor both critically and commercially. Granted, there were some provisions and near-anachronisms made within 'Battlefield One' for the sake of enjoyable gameplay, but it was still a huge departure from the most recent numbered Battlefield titles, which take place in a world-spanning conflict in a modern setting. I can't say in confidence that 'CoD WWII' is a reactionary attempt to capture some of Battlefield One's success, since each game in the CoD series is released by one of three developers and is developed over a period of three years, but the franchises will once again be compared for their major departure in setting.
In any event, 'another year, another CoD' rings true yet again, even if we're trading the space suits and laser rifles for olive drab combat uniforms and M1 Garands. We should still expect finicky gameplay balance, kill streaks, and map packs and microtransations aplenty.
Look forward to the inevitable official announcement for 'CoD WWII' when E3 rolls around this coming June.
Tags: Call of Duty