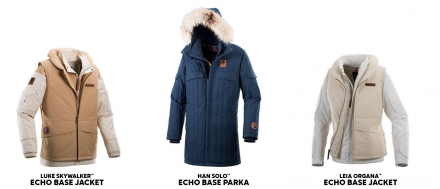 This isn't the first time Columbia partnered up with Disney to produce a line of Star Wars-inspired garb, but with a new Star Wars movie out later this month, and it being Winter and all, the timing is appropriate.
This time, the three pieces – Luke Skywalker Echo Base Jacket, Han Solo Echo Base Parka, and Leia Organa Echo Base Jacket, are even closer to their film counterparts than the previous Rogue One collection, which were jackets more clearly "inspired" by the film than modeled after costumes within the film. You could almost pass these off as cosplay-grade apparel; overt Columbia branding aside.
Like the last collection, these jackets are limited, and expensive, and will surely sell out shortly after they go live, because Star Wars.
At the time of writing, there's roughly 48 hours before they go for sale on Columbia's website, so eyeball that clock closely if you want one of these for yourself: