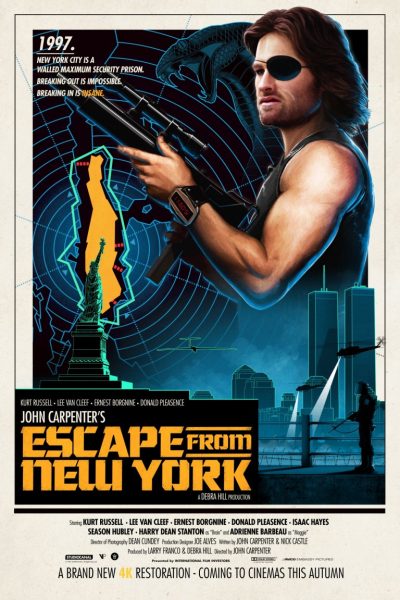 On November 22nd, for one night only, select theaters in the UK are showing a 4K restoration of the cult classic John Carpenter film 'Escape From New York'. This is in addition to 'The Fog', 'Prince of Darkness', and 'They Live', which have started showings as of yesterday, October 26th. The films has been restored using the original negatives, with color grading approved by Gary B. Kibbe and Dean Cundey, cinematographers who worked on the four films. These releases is courtesy of StudioCanal, a Franco-British film production and distribution company, which explains the regional exclusivity, but it still stings for John Carpenter fans here in the States and abroad.
However, the 4K restoration of the four films are slated for digital download and Blu-Ray release now through the month of November. Currently it looks like the home-release options are also UK (and likely Europe)-exclusive, however they could end up stateside, and hopefully they will.
Check out www.johncarpenter4k.co.uk for more details, and to purchase tickets for the films, if you're in the UK.
Update: This might not be as UK-exclusive as I originally thought. While the news floating around is largely based around the UK showings, it turns out that 'The Fog' is currently having a limited release in theaters across the States. If you'd like to see it for yourself, do an internet search for 'The Fog showtimes + your zip code' and you might find a showing in your area. That's how I managed to get my ticket.
No word, however, on whether the other three films are receiving a US release, but I'll definitely be keeping an eye out.