Newington, N.H. (November 5, 2018) – SIG AIR adds to its world-class Advanced Sport Pellet (ASP) line of airguns with the introduction of the new M17 CO2-powered air pistol. This semi-automatic .177 caliber pellet pistol is a replica of the U.S. Army issued P320 M17 and is field strippable like its centerfire counterpart. It has the same look and feel as the M17 featuring a polymer frame and metal slide with realistic blow-back action. The proprietary drop magazine houses a 20-round Rapid Pellet Magazine (RPM) and 12g CO2 cartridge which has a patented cam lever loading port for quick and easy replacement of the CO2 cartridge.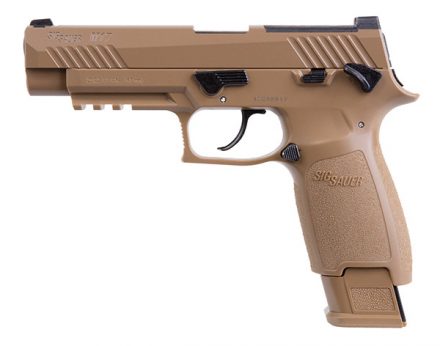 The M17 ASP pistol weighs 2.15 lbs. The sights are fixed with a white dot front sight and the accessory rail allows easy mounting of a laser or tactical flashlight. Velocity is up to 430 fps; however, velocity results may vary depending on pellet weight, temperature and altitude. Available in Coyote Tan.
MSRP: $139.99
To purchase and learn more about the M17 Air Pistol, visit sigsauer.com.