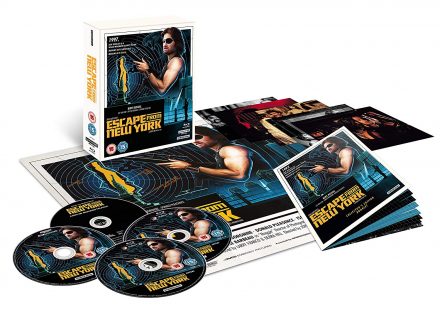 For those of us who are still a bit sore about the UK-regional exclusivity of the John Carpenter 4K Restoration theatrical releases, you can still get a hold of the limited release Collector's Edition Blu-Rays. The Escape From New York Collector's Edition consists of 4 disks:
– Ultra HD disk of the movie
– Blu-ray disk of the movie
– Extra Features disk
– Original soundtrack on CD
The set is also accompanied by the 4K release theatrical poster, 5 artcards, and a behind-the-scenes booklet complete with scene stills, articles, and an essay by film journalist Kim Newman.
This set is retailing for roughly 40 USD, and can be shipped to the States if bought from UK Amazon. The other 3 Carpenter films (They Live, The Fog, and Prince of Darkness) are also available.
www.amazon.co.uk/Escape-New-York-Collectors-Blu-Ray/dp/B07H53CVPQ