Popeye is the newest addition to Mezco's One:12 Collective collection, and he's been rendered in a detailed, more-realistic styling than his typical appearances. As implied by the series name, this figure is 1:12 scale (14cm/5.5″ tall) and features over 28 points of articulation, and two interchangeable head portraits: described as "stern stare" and "salty glare", respectively. In addition to 7 interchangeable hands, this figure also comes with a cloth sailor's uniform and pea coat, and the following accessories: a functional drawstring duffle bag, a collapsible spy glass, a compass with hinged lid, two spinach cans, three different hats, and two styles of corncob pipes.
www.mezcotoyz.com/one-12-popeye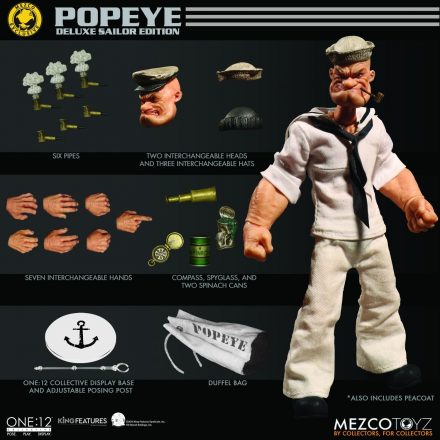 For those who are more enamored with Popeye's classic look from the 1940s to 1960s, Mezco is also offering a special edition variant of the figure in his classic Navy whites. Aside from the uniform change, this variant comes with all the same or equivalent accessories, but also comes in a special themed container that's modeled after a can of spinach.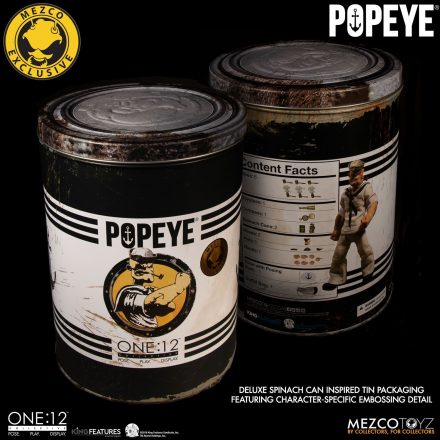 www.mezcotoyz.com/one-12-collective-popeye-deluxe-sailor-edition
Tags: Mezco