CLEVELAND, OHIO (January 18, 2019) Air Venturi, a leading manufacturer and importer of airguns and airsoft guns will be showcasing its brand new officially licensed Springfield Armory® replica pistols and rifles at the 2019 SHOT Show, located in booth #2007.

The iconic M1 Carbine Rifle, the standard firearm for the U.S. military during World War II, the Korean War and well into the Vietnam War, will be available through Air Venturi as both a .177 BB CO2 air rifle or 6mm CO2 airsoft rifle starting in spring 2019. Featuring an full metal receiver and synthetic wood look stock, the .177 CO2 BB Rifle shoots velocities up to 425 fps and gets nearly 40 shots per 12 gram CO2 cartridge.
When the XD(M)® series of polymer pistols were introduced in 2007 from Springfield Armory®, the line featured a ground-breaking design that offered new and higher standards for ergonomic comfort, ease of operation, features and performance. Over one decade later, Air Venturi brings this legendary series to the airgun and airsoft replica market, in both compact (3.8″) and standard (4.5″) configurations. The .177 BB
CO2 series features a 20 rd mag, full blowback and can shoot velocities of up to 325 fps. The airsoft pistol series are powered by green gas (with CO2 magazines available) and can shoot up to 280 fps in the compact models, and up to 330 fps in the standard models.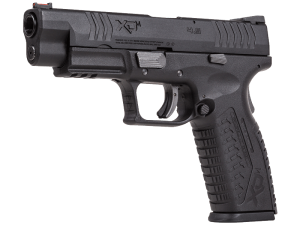 Both the airsoft and airgun versions offer interchangeable backstraps, like its firearm counterpart, for ergonomic comfort. The 3.8″ compact versions offer coordinating grip frame extensions to allow the use of the longer 4.5″ version magazines.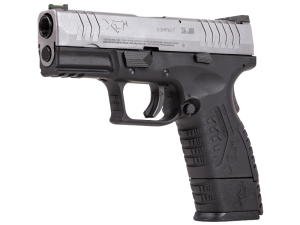 Both BB and airsoft models will be available in all black and black frame/silver slide finishes starting in spring 2019.
"We are beyond excited to be launching both the M1 Carbine rifle series and XD(M)® pistol series as our first replicas from the iconic Springfield Armory® line of firearms," said Val Gamerman, President of Air Venturi. "The M1 Carbine embodies the history of the revered firearm that was used not only the U.S. military, but by military, paramilitary and police forces around the world. The XD(M)® series of pistols, available in 8 different configurations, will be available in spring 2019, and will be a hit with airgunners, replica enthusiasts and airsoft fans alike."
"With the 2019 release of the M1 Carbine and XD(M)® officially licensed replicas, this marks Springfield Armory's first chapter in the airgun and airsoft industry," stated Steve McKelvain, Springfield Armory® President. "This is the first of many replica rifles and pistols that will solidify both Air Venturi and Springfield Armory's place in the progression of quality airguns and airsoft guns."
Retailers are invited to learn more by visiting the Springfield Armory® and Air Venturi booth, #2007 at the 2019 SHOT Show in Las Vegas.