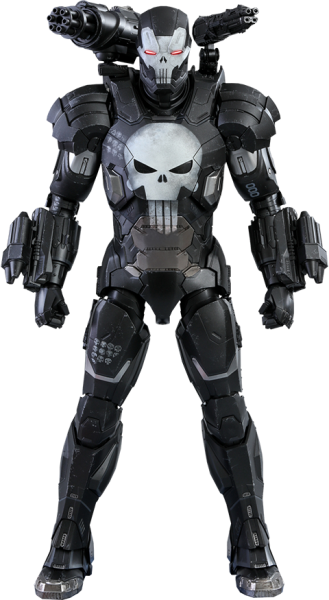 Ok, so it's easy to be completely disconnected from the crazy, ever-shifting plotlines of modern comics, so in case you're not familiar: the Punisher's been a Frankenstein's monster, given angelic powers, and most lately he's taken up the mantle of Ghost Rider, and he raised a baby Thanos into a Punisher himself. So, a Frank Castle in War Machine armor is pretty tame by comparison, and given all that heavy weaponry, pretty appropriate. Manufactured by Hot Toys and sold by Sideshow, this War Machine Punisher figure comes in at 32.5 cm in height (~13 in), and features 30 points of articulation, as well as a helmeted head with LED ligh-up fuction and skull pattern. Plus, it comes with the following weapons and accessories: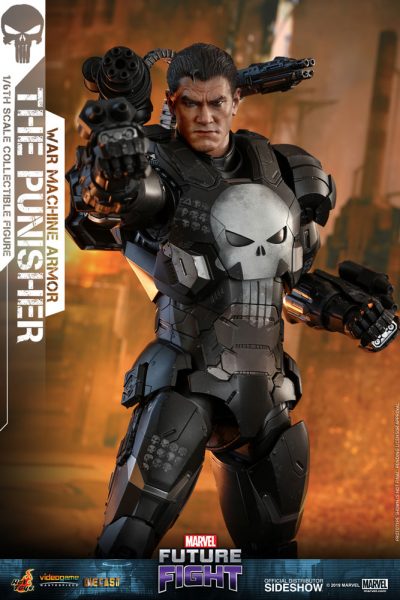 – Detachacble chest armor
– Built-in shoulder missile launchers
– Missle firing forearm armor
– Two sets of interchangeable forearm inner armor
– 4 pairs of interchangeable hands
– Articulated shoulder-mounted mini-gun
– Articulated back-mounted shoulder cannon
– Ammo belt for mini gun
This figure comes complete with a figure stand and interchangeable graphic card.
www.sideshowtoy.com/collectibles/marvel-the-punisher-war-machine-armor-hot-toys-904324