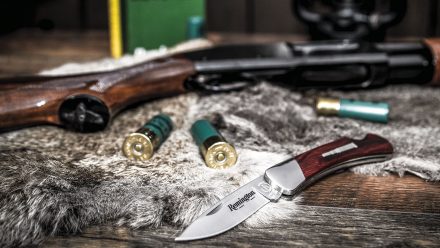 Post Falls, ID–3/5/2019 –Remington Cutlery introduced its second group of products under the official license of Buck Knives, Inc. at SHOT Show 2019 in Las Vegas, NV.
Bullet Knives – Limited Edition
The first Bullet knife was introduced in 1922. Many variations of this legendary knife have been created since that time. The Limited Edition MOA Bullet knife and the MOA Bullet knife are the 2019 editions, with limited quantities. The Limited Edition MOA Bullet knife features a drop point, 420HC stainless steel blade with an Ivory Paper Micarta® handle detailed with a custom sterling silver bullet medallion. The MOA Bullet knife also has a 420HC steel blade and is accented with a green DymaLux® wood handle and nickel silver bullet shield. Each Bullet knife in this series is proudly made in the USA.
MSRP: $175-$275
Heritage Series
New additions to the Heritage Series include three folding pocket knives resembling the Stockman, Trapper, and Toothpick customer favorites. Each knife is constructed of 420J2 stainless steel and a beautiful wood handle with the Remington logo. MSRP: $20-$30
Sportsman Series
Realtree EDGE™ camo is now a handle option for the popular fixed and folding versions in the Sportsman Series. This series, consisting of small and large folders and fixed blades, features 420J2 stainless steel and nylon or thermoplastic rubber handles. Sportsman Shears have also been added to the line-up, featuring green thermoplastic rubber handles and 420J2 stainless steel. MSRP: $19-$37
Tactical Series
With a focus on strength and durability, this series now includes tiger stripe camo framelock knife with partially serrated tanto blade and a Black Oxide coated stainless steel clip. This series also features new assisted opening drop points available with anodized aluminum or polypropylene/thermoplastic handles. MSRP: $28-$35
Everyday Carry
Two folders have been added to the everyday category of lightweight, easy carry knives. Both knives feature 420J2 stainless steel and a convenient satin finish stainless steel clip. MSRP: $26-$27
All Remington products are backed by a Lifetime Warranty.