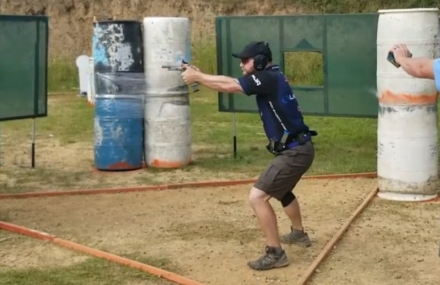 Westport, Conn. (May 2019) – Shell Shock Technologies, LLC., an early stage technology and manufacturing company focused on developing innovative case technologies for the ammunition industry, is pleased to announce its sponsored shooter, John Vlieger, took home the High Open Division and Second Overall titles at the 2019 LimCat Custom and Precision Delta Mississippi Classic, held May 18, 2019 in Byram, Mississippi.
Vlieger competed against 259 competitors to finish with 1177.2938 match points and a time of 196.05. Watch the competition video here: https://www.facebook.com/JohnVliegerShooting/videos/339921083374248/.
"The 2019 Mississippi Classic was a movement intensive technical match with everything from 40-yard shots to a mop on 11 courses of fire. From sunshine to a thunderstorm, 25 – 100 percent humidity changes, and 55-90-degree temperature shifts, my equipment ran true throughout. My ammo loaded in Shell Shock Technologies' cases ran flawlessly in the pouring rain the same as in the dry heat, and I couldn't ask for better reliability. When you're shooting 5,000 rounds a month to stay competitive, there is no room for questionable ammunition, and Shell Shock Technologies' NAS3 cases keep me focused on the targets, not on my gear. Here's to preparing for the next challenge!" commented Vlieger.
Vlieger has fired over 55,000 rounds of ammunition with Shell Shock Technologies' NAS3 cases since becoming sponsored in 2017 and plans to continue using it.
Vlieger can be seen competing next at the 2019 Ohio State USPSA Cheely Custom Gunworks BUCKEYE BLAST, to be held May 31 – June 2, 2019, in Zanesville, Ohio.