Shell Shock Technologies will be supplying Aman with its NAS3 cases for his 2019 competitive season.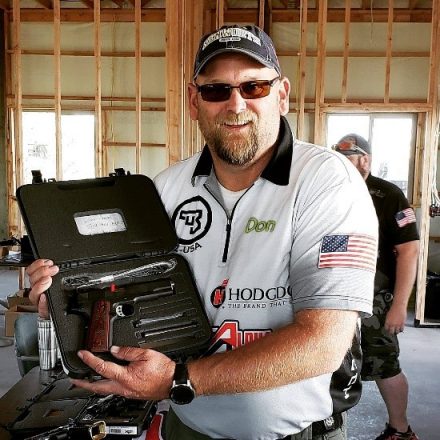 Westport, Conn. (June 2019) – Shell Shock Technologies, LLC., an early stage technology, and manufacturing company focused on developing innovative case technologies for the ammunition industry, is pleased to announce it has signed Don Aman as its newest sponsored shooter. Shell Shock Technologies will be supplying Aman with its NAS3 cases during his 2019 USPSA competitive season. He will be shooting his CZ CZECHMATE running 9mm at 170 power factor.
"Shell Shock Technologies' NAS3 9mm cases are by far the best all-around 9mm cases I have ever seen or shot. This technology will revolutionize the reloading industry and I am so proud to be a part of the Shell Shock Technologies' team. The old brass case technology has officially been put on notice!" Aman commented.
Aman has been involved in the shooting sports for over 20 years as a competitive shooter, reloader, Las Vegas survivor and a staunch pro-gun advocate. He started casting his own bullets in 2016 and quickly realized it was becoming a lost art. He began to read anything he could get his hands on regarding the art of casting lead and now shares this information with his subscribers on the Bullets for Freedom YouTube and UGETube Channel. During 2019, he will be traveling throughout the Northwest competing in many Level 1, 2 and 3 matches as part of the USPSA competitive season.
Aman can be seen competing next at the 2019 Northwest Challenge, to be held at the Paul Bunyan Rifle and Sportsman's Club in Puyallup, Washington, July 12 – 14, 2019.
About Shell Shock Technologies NAS3 Cases:
NAS3 9mm cases are 50 percent lighter than brass cases, offer greater lubricity and will not abrade, clog, foul, wear-out or damage breach and ejector mechanisms. The cases offer greater corrosion resistance, tensile strength (2x stronger) and elasticity than brass. NAS3 cases will not split, chip, crack or grow (stretch) and are fully reloadable (using S3 Reload dies) and can be reloaded many more times than brass cases. NAS3 cases have been tested successfully by customers to pressures over 70k psi. NAS3 cases can be picked up with a magnet. The head can be colored for branding purposes and easy load identification.
NAS3 is "Best in Class" for maintaining consistent velocity between rounds. In an independent test performed by H.P. White Laboratory (a major munitions testing facility), rounds fired using NAS3 cases achieved a velocity standard deviation of 0.093 FPS (124-grain FMJ bullet, 4.2 grains Titegroup powder, 10 rounds, extreme variation 3fps).
To learn more about Shell Shock's revolutionary technology, visit www.shellshocktech.com.
Tags: Shell Shock Technologies