NEWINGTON, N.H., (July 23, 2019) – SIG SAUER, Inc. is pleased to announce the new P365 BB Pistol is now shipping. Modeled after the award-winning SIG SAUER P365 everyday, high capacity, micro-compact, concealed carry pistol, this CO2-powered, semi-automatic BB pistol features realistic blowback action and is an exceptional training tool for personal defense.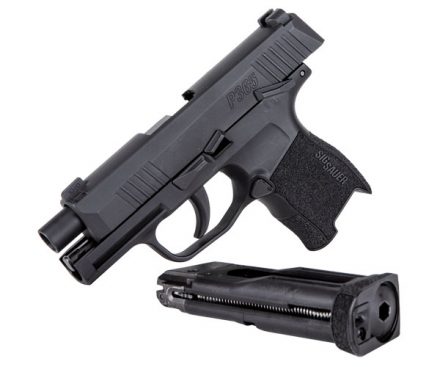 The P365 BB pistol is designed to fit in available P365 holster systems for easy practice of efficiently drawing from concealment. The 12-round magazine holds 4.5mm (.177 cal) premium steel BBs and also houses the 12gr CO2 cartridge for fast reloading.
The P365 BB Pistol shoots up to 295 fps; however, velocity results may vary depending on temperature and altitude.
P365 BB Pistol:
Total length: 5.75"
Barrel length: 3.25"
Weight: 0.8 lbs
Finish: Black
Muzzle Velocity: up to 295 fps
Caliber: 4.5 mm Premium Steel BB
Magazine Capacity: 12
Power Source: CO2
The P365 BB Pistol is now available for purchase at sigsauer.com/store.
MSRP: $99.99
Tags: SIG Sauer