Low-Profile Light Features Three Functions, Adjustable Eye-Safe IR Aiming Laser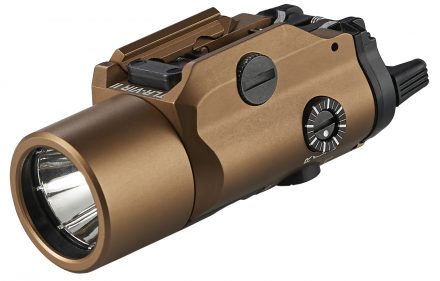 EAGLEVILLE, PA, January 22, 2019 – Streamlight®, Inc., a leading provider of high-performance lighting and weapon light/laser sighting devices, introduced the TLR-VIR® II, a lightweight, compact rail-mounted tactical light with a high intensity white LED, an integrated infrared (IR) LED illuminator, and Class 1 "Eye Safe" IR aiming laser with windage and elevation adjustment controls. The new light securely fits all long guns with MIL-STD-1913 rails and M17/M18 pistols.
The TLR-VIR II enables users to easily toggle easily between bright light and the IR illuminator/laser. This feature allows military and law enforcement personnel to remain in a proper firing position when making the transition from IR mode to white light, and vice versa. The light features a three-position mode rear selector switch, including IR illumination/IR laser, Safe Off (to prevent accidental turn-on), and visible illumination, that enables users to keep hands away from the muzzle during mode selection.
"The TLR-VIR II gives soldiers and first responders the ultimate in tactical lighting flexibility," said Streamlight President Ray Sharrah. "With its high intensity white light and a long-running IR illuminator and Eye Safe IR laser for optimizing night vision, it's an essential tool for those deploying with weapon lights."
The new light, which is powered by a single CR123A lithium battery, uses the latest in LED technology for ultra-bright visible light, providing 5,000 candela, 300 lumens and a 1.5 hour run time. For IR lighting, the TLR-VIR II uses an 850-nanometer LED emitter with 600mW/sr radiant intensity, providing optimum illumination when using night vision equipment; it delivers a run time of 12 hours. Its IR aiming laser has fully adjustable windage and elevation settings.
The TLR-VIR II has an ambidextrous momentary/steady on-off switch. Like other TLR® models, the light has a rail clamp that can be easily attached and tightened with one hand, without the use of tools. The IR illumination/laser mode selection also features a tactile indicator on the light housing for switching modes with ease.
The TLR-VIR II is constructed from machined aircraft aluminum, with a coyote anodized finish body and a high-impact, chemically resistant polymer black switch housing.
The compact light weighs only 3.82 ounces and measures 3.30 inches long and 1.40 inches high. It uses a high temperature, shock-mounted, impact-resistant Borofloat glass lens. It is available in Coyote or Black.
Featuring extensively live-fire tested construction, the TLR-VIR II has an IPX7 rated design for waterproof operation to 1 meter for 30 minutes. It has an MSRP of $600.00.
About Streamlight
Based in Eagleville, PA, Streamlight, Inc. has more than 45 years of experience making tough, durable, long-lasting flashlights designed to serve the specialized needs of professionals and consumers alike. Since 1973, the company has designed, manufactured and marketed high-performance flashlights, and today offers a broad array of lights, lanterns, weapon light/laser sighting devices, and scene lighting solutions for professional law enforcement, military, firefighting, industrial, automotive, and outdoor applications. Streamlight is an ISO 9001:2015 certified company.  For additional information, please call 800-523-7488, visit streamlight.com or connect with us on facebook.com/streamlight; twitter.com/Streamlight; instagram.com/streamlightinc; https://www.linkedin.com/company/streamlight-inc.; and youtube.com/streamlighttv.
Tags: Streamlight