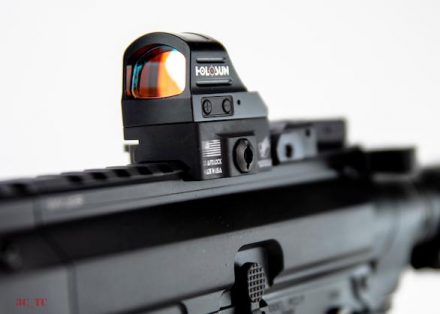 City of Industry, CA (Aug 13, 2019)- Holosun Technologies is pleased to introduce the latest in its lineup of micro red dot optics, the HS407C. The HS407C is an entry level pistol sized optic that features two of Holosun's proprietary battery saving technologies, as well as a unique red 12MOA ring in place of the standard 2MOA red dot. This unique small optic built into a durable aluminum body is ideal for use on a shotgun or whatever the situation demands.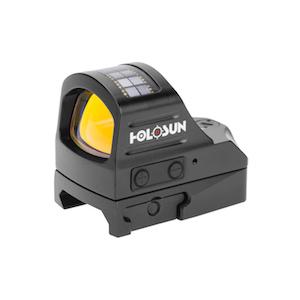 As an entry level micro optic, the HS407C is built for rugged reliability and dependability. The HS407C's aluminum housing makes it durable, corrosion resistant, and lightweight while Solar FailSafe and Shake Awake technologies keep it running, no matter what. Additionally, the HS407C has an IPX7 waterproof rating which means that the optic can safely operate in wet climates.
Holosun proudly boasts a battery life of up to 100,000 hours, or ten years, on the HS508C. Holosun knows battery life is crucial and features Shake Awake technology that helps users preserve battery life by detecting motion, and a lack of motion, in the optic. When it senses the optic is no longer in use through movement it will automatically power down the L.E.D. to conserve battery life. Once the optic detects movement again, it immediately restores power to the L.E.D. so that the user never has to guess or wonder if their optic is active. If the unexpected should occur and the battery does fail, Solar FailSafe uses a small solar panel mounted on top of the HS407C to collect ambient light to provide illumination for red dot. The brightness of the L.E.D. varies depending on the amount of light in the environment so users will never have a dim red dot in daylight or one that's too bright indoors.
The HS407C is unique to the Holosun lineup as it features a 12MOA ring only. This reticle style is favored among shotgun users as it can be used to help shooters predict their spread pattern more easily ensuring nothing misses the target. Additionally, this reticle allows users to see through it so it does not obstruct view like a large red dot might. This optic features ten daylight brightness settings and two night vision compatible settings as well.
Durability and affordability are where the HS407C excel. Even as an entry level optic, the HS407C still delivers strength, clarity, and a long battery life. The HS407C is available today at authorized Holosun retailers and through their website http://www.holosun.com. The HS507C is the sibling unit of the HS407C that adds Multiple Reticle System technology to the optic. With an MSRP of $270.58 the HS407C is an affordable micro red dot optic. For questions and retail inquiries please contact [email protected] for more.
Tags: Holosun