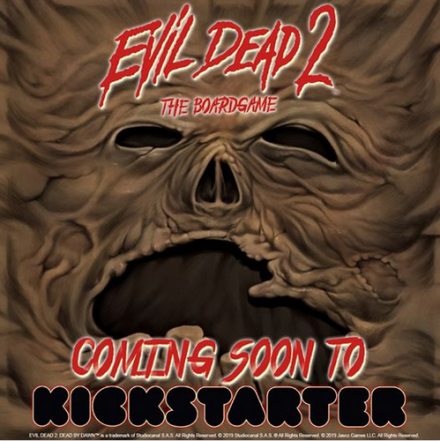 Las Vegas-based Jasco Games, designer and publisher of various types of tabletop and card games, has announced that they're soon going to be putting an Evil Dead 2 board game up on the crowdfunding platform, Kickstarter.
Here's a bit of background that lead to this announcement: there was an earlier attempt by Bellingham, Washington-based Space Goat Productions to fund an Evil Dead 2 boardgame via Kickstarter. Unfortunately, despite funding from 6000+ backers, Space Goat revealed they would be unable to complete the game and had no concrete solution for the issue. Normally, that would be the end of it, the game would have fallen into obscurity, and all the backers of the original project would go empty-handed.
However, Jasco Games, in partnership with board game designers Lynnvander Studios, have obtained the board game rights for Evil Dead 2, and will be creating their own Evil Dead 2 board game. This new Evil Dead 2 board game, which is also going up on Kickstarter, will have some of the elements from the Space Goat game integrated into its design, and Jasco Games will also be donating a copy of this new game to a backer of the Space Goat version, for every copy funded in the new campaign.
It's easy to recognize the irony in crowdfunding the revival of a game that failed to be created after its own crowdfunding campaign fell through. However, Jasco Games has a lot of great games based on famous properties under their umbrella, so they're probably the best bet to actually seeing this project through.
Here's a link to the official announcement: jascogames.com/jasco-games-looks-to-revive-evil-dead-2-the-official-board-game
Stay tuned for more info on the Kickstarter campaign when it goes live.