NEWINGTON, N.H., (December 3, 2019) – SIG SAUER, Inc. is pleased to introduce the P320-M18, the commercial variant of the U.S. Military Modular Handgun System (MHS) M18. A smaller version of the M17, the P320-M18 features a 3.9" barrel, compact slide, and carry length grip module. The M18 was recently chosen as the official sidearm of the U.S. Marine Corps, and has been recently issued alongside the full-size M17 to all branches of the US Military as a result of the MHS contract award.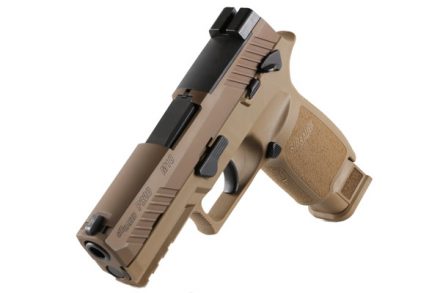 "Since the official selection of the M17 and M18 by the U.S. Army for the Modular Handgun System (MHS), we've seen significant civilian interest to own both variants of the handguns. The P320-based M17 and M18 are among the most tested handguns in history and the pair has been proven to be unmatched in both accuracy and reliability," said Tom Taylor. Chief Marketing Officer, and Executive Vice President, Commercial Sales. "We are very proud that with the P320-M18, civilians can now own the same innovation and versatility that has made either the M17 and M18 the handgun of choice for all branches of the U.S. Military."
The P320-M18 is a 9mm striker-fired pistol with an exclusive "M18-XXXXXX" serial number that comes with one 17-round magazine and two 21-round magazines. The pistol features a SIGLITE front night sight and a removable night sight rear plate as specified by the MHS contract. The slide is optic ready and with the rear sight assembly removed, the SIG SAUER Electro-Optics ROMEO1Pro Optic mounts directly to the slide. The P320-M18 is configured nearly identically to the U.S. Military's models and features black controls, a carry-length coyote-tan grip module, coyote PVD finished slide, and an ambidextrous manual safety. The P320-M18 is also available in a state compliant version and is currently listed on the Massachusetts handgun roster.
P320-M18 Handgun Specs:
Overall Length: 7.2"
Overall Width: 1.6"
Weight (incl. magazine): 28.1 oz
Overall Height: 5.5"
Barrel Length: 3.9"
Sight Radius: 5.8"
The P320-M18 handgun is currently shipping and now available in retail stores.