Happy St. Patrick's Day! Figured since today is often celebrated in honor of the Patron Saint of Ireland we'd talk about some of

Ireland's more dangerous men – the Fiannóglach, or "Devils of Kildare." The Irish Rangers.
Now somewhat analogous to our Combat Action Group (CAG), the British SAS, French GIGN, etc, they began as a cross-training exchange program with our 75th Ranger Regiment at Ft. Benning. The full spectrum of special operations/counter-terror role within the Irish Defense Force is now fulfilled by the ARW, Irish Army Air Ranger Wing, or Fiannóglach. There's no literal English translation from the Gaelic, so the proper term for one of their operators is Ranger. They wear a tab much like the Ranger scroll that says FIANNOGLACH.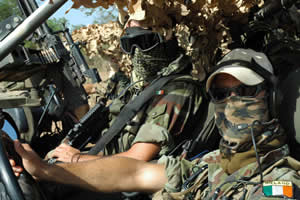 The Fiannóglach divide all operations into green (traditional special forces, recon, direct action, Foreign Internal Defense) or black (counter-terrorist, counter-espionage, high value target direct action, etc.). They are garrisoned in Curragh Camp, County Kildare (hence the nickname Devils of Kildare). Their motto is Glaine ár gcroí, neart ár ngéag agus beart de réir ár mbriathar: in English, the cleanliness of our hearts, the strength of our limbs and our commitment to our promise.