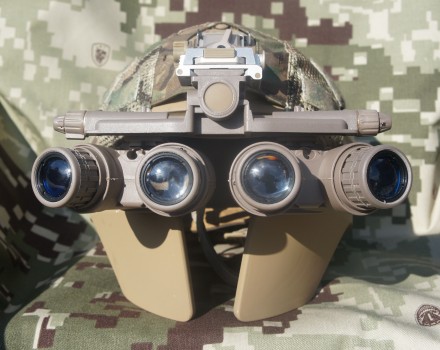 Lancer Airsoft's GPNVG-18 Dummy is a non-functional replica of the L-3 Warrior Systems GPNVG-18, perhaps best known for its use by Seal Team Six in the flim Zero Dark Thirty. This particular model comes standard with clear and blue replacement lenses, dummy ANVIS cable, and dummy remote battery pack.
As far as replicas go, Lancer Tactical really hit it out of the park with their GPNVG-18 Dummy. The detail of this product is high: the Dummy is the proper size, features accurate accessories, and proper markings; There are identification stickers that come with the dummy that can be used to add further detail. The unit is made from sturdy plastic, and the non-functioning power button is made from a spongy foam-like material. Dials on either side of the eye pieces can be used to adjust their spacing.
The Dummy NVG is fairly lightweight, including the faux battery pack, so it's not likely to cause any additional strain if mounted to a helmet. The replaceable lenses are a nice addition that adds a bit of customization to the unit. Please note that actually looking through the lenses is slightly disorienting, the lenses are convex (images appear upside down and reversed), so it's best used as an accessory or for non-serious play.
If you happen to be looking for a replica GPNVG-18 to add that extra bit of detail to your kit, for role-playing purposes, or just because they're cool looking, then you can't go wrong with Lancer Tactical's GPNVG-18 Dummy.
One last thing to note: For the purposes of the photography, I mounted the dummy GPNVG-18 on a Wilcox L4 G24 NVG mount. Although the dummy NVG did fit, it wasn't completely secure to the mount and had the potential to slip off. Lancer Tactical offers their own L4 G24 NVG mount built for airsoft use that should better accommodate the dummy NVG.
The Lancer Tactical GPNVG-18 Dummy shown above is in Tan, although a Black model is also available.
www.airsplat.com/items/AC-APP-CA-737T.htm
—
This review was brought to you by Airsplat, Your Unbeatable Airsoft Store. Airsplat offers up to $60 off, no sales tax, free shipping, free upgrades, and much more! Check out their website at: Airsplat.com.